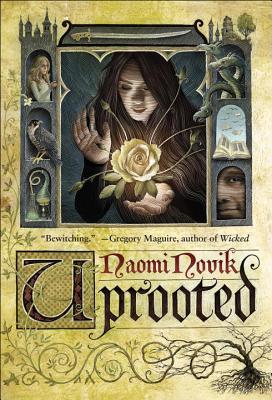 Titel:
Uprooted
Författare:
Naomi Novik
Serie:
-
Sidor:
435
Agnieszka loves her valley home, her quiet village, the forests and the bright shining river. But the corrupted Wood stands on the border, full of malevolent power, and its shadow lies over her life.

Her people rely on the cold, driven wizard known only as the Dragon to keep its powers at bay. But he demands a terrible price for his help: one young woman handed over to serve him for ten years, a fate almost as terrible as falling to the Wood.

The next choosing is fast approaching, and Agnieszka is afraid. She knows—everyone knows—that the Dragon will take Kasia: beautiful, graceful, brave Kasia, all the things Agnieszka isn't, and her dearest friend in the world. And there is no way to save her.

But Agnieszka fears the wrong things. For when the Dragon comes, it is not Kasia he will choose.
Uprooted är en såndär bok som jag missat lite. Jag har sett den här och där, men aldrig riktigt kollat upp vad den egentligen handlar om. Men när jag väl tog mig tid så kände jag genast att det här måste vara en bok för mig. Så jag beställde hem den och plockade upp den ganska så snarast. Och visst hade jag rätt, för jag tyckte så mycket om den.

Handlingen var mycket kusligare än vad jag först förväntat mig, och jag gillar verkligen det här med att det är en skog som är antagonisten i berättelsen. Själva magin var också väldigt fascinerande, och jag gillade sagostämningen som föll över boken. Jag vill egentligen inte prata så mycket mer om handlingen, utan känner att det är en sådan man mår bäst av att inte veta så mycket om. Mitt enda problem var att den av någon anledning kändes väldigt tungläst, och flera gånger var jag helt säker på att jag åtminstonde läst 20 sidor, men i själva verket hade jag läst typ tre. Den var dock lätt att komma in i, så det var inte det som var problemet eller. Men tyvärr får det mig att dra ner på betyget en aning.

Karaktärerna var så charmanta, och jag gillade både Agnieszka och the Dragon mycket. Deras konversationer och samspel var så härligt, och jag skrattade högt flera gånger. Jag var väldigt förtjust i relationen mellan de båda, allra helst framemot slutet. I övrigt så tyckte jag även mycket om Kasia.

Uprooted var egentligen en alldeles fantastisk bok, och särskilt slutet var något som jag absolut älskade. Jag är säker på att den skulle ha fått nästan full poäng om den inte varit så långsam för mig att läsa. Men trots det hamnar den ändå bland mina favoriter, och jag kan mer än gärna rekommendera den.