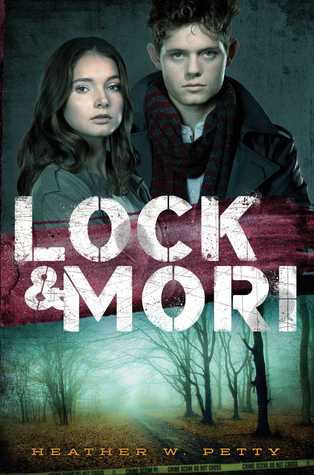 Titel:
Lock & Mori
Författare:
Heather W. Petty
Serie:
Lock & Mori #1
Sidor:
245
I
n modern-day London, two brilliant high school students—one Sherlock Holmes and a Miss James "Mori" Moriarty—meet. A murder will bring them together. The truth very well might drive them apart.

Before they were mortal enemies, they were much more…

FACT: Someone has been murdered in London's Regent's Park. The police have no leads.

FACT: Miss James "Mori" Moriarty and Sherlock "Lock" Holmes should be hitting the books on a school night. Instead, they are out crashing a crime scene.

FACT: Lock has challenged Mori to solve the case before he does. Challenge accepted.

FACT: Despite agreeing to Lock's one rule—they must share every clue with each other—Mori is keeping secrets.

OBSERVATION: Sometimes you can't trust the people closest to you with matters of the heart. And after this case, Mori may never trust Lock again.
Jag är inget direkt superfan av Sherlock Holmes, men när jag hörde talas om den här boken med en tonårig Sherlock, och en kvinnlig Moriarty, så hamnade den givetvis på min att läsa lista. Själva idéen kändes så himla bra, och mina förväntningar var riktigt höga. Om Lock & Mori levde upp till dessa då? Nej, det kan jag nog inte säga.

Som sagt så var jag redan förälskad i själva tanken på den här boken, och den som fascinerar mig mest när det kommer till Sherlock Holmes är faktiskt Moriarty. Att få en bok om en av världens mest kända skurkar, och dessutom göra henne till kvinna kunde väl inte bli annat än bra? Tyvärr tycker jag dock att romansen tog på tok för stor plats, morden fick inte alls det utrymme de behövde för att kännas intressanta, och allt kändes mest bara hafsigt. Dessutom var jag intresserad av att se Mori som
en skurk, och det var inte alls särskilt mycket av den varan, tyvärr.

Av karaktärerna så tyckte jag att Sherlock kändes tråkig och underutvecklad. Jag ville se mer av hans genialiska förmåga att dra slutsatser, och jag tycker att, med tanke på hans personlighet
(och jag erkänner att jag kan ha blivit påverkad av Cumberbatch i Sherlock här, för jag har faktiskt inte läst originalboken)

, så kändes det som att han föll för Mori på tok för fort och för enkelt. Mori själv var den mer intressanta karaktären, men samtidigt hade man kunnat gjort så mycket mer med henne. Hon var smart, men det var inte förrän i slutet jag började gilla henne. Som sagt, romansen tar upp alltför stor plats för att låta karaktärerna utvecklas.

Lock & Mori är en sådan bok där jag gillade idéen bra mycket bättre än själva utförandet. För lite av allt, utom romansen, men med ett ganska spännande slut. Jag kan kanske tänka mig att plocka upp uppföljaren, för jag vill verkligen inte släppa tanken på det hela, men det är samtidigt inget jag kommer att gå och vänta på. Betyget pendlar mellan ett okej och ett svagt gillar, men eftersom jag faktiskt tyckte om slutet så beslutar jag mig för att vara generös.