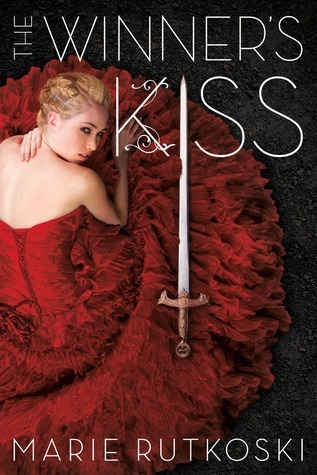 Titel:
The Winner's Kiss
Författare:
Marie Rutkoski
Serie:
The Winner's Trilogy #3
Sidor:
484
Spoilervarning! Boken ingår i en serie, spoilers från tidigare böcker förekommer.
War has begun. Arin is in the thick of it with untrustworthy new allies and the empire as his enemy. Though he has convinced himself that he no longer loves Kestrel, Arin hasn't forgotten her, or how she became exactly the kind of person he has always despised. She cared more for the empire than she did for the lives of innocent people—and certainly more than she did for him.

At least, that's what he thinks.

In the frozen north, Kestrel is a prisoner in a brutal work camp. As she searches desperately for a way to escape, she wishes Arin could know what she sacrificed for him. She wishes she could make the empire pay for what they've done to her.

But no one gets what they want just by wishing.

As the war intensifies, both Kestrel and Arin discover that the world is changing. The East is pitted against the West, and they are caught in between. With so much to lose, can anybody really win?
När jag läste första boken i den här serien, The Winner's Curse, så var jag långt ifrån imponerad (tyckte dock mer om den vid en omläsning), och därför förvånade det mig verkligen när den andra boken var en av mina absoluta favoriter förra året. The Winner's Kiss blev givetvis ett av mina mest efterlängtade boksläpp, och så här i efterhand så kan jag bara säga att wow, vilken serie.

Handlingen var verkligen helt superb, och jag är riktigt imponerad av Marie Rutkoski. Jag var inte helt säker på att något skulle kunna slå The Winner's Crime, men spänningen var på topp genom hela boken och jag kunde knappt sluta läsa. Det är mycket action, mycket planerande och jag verkligen älskar Kestrels hjärna. Början var dessutom alldeles hjärtskärande och ni som läst andra boken förstår givetvis vad jag pratar om. Slutet var för övrigt helt perfekt och jag absolut älskade det.

Av karaktärerna så har Kestrel varit en favorit hos mig sedan den första boken, och jag gillar henne bara mer och mer för varje sida jag läser. Hon är oerhört intelligent och modig, och jag älskar hennes strategiska tänkande. Arin däremot har jag haft väldigt svårt för tidigare (men det lättade när jag kom på att varför jag inte tyckt om honom är för att han har så många av de personlighetsdrag jag gillar minst av mig själv), men jag tycker mycket om honom i den här boken. Jag gillar hans utveckling och den ledare han har blivit. I övrigt så älskar jag både Roshar och Verex, och jag önskar att den sistnämnda fått lite större plats i den här boken.

The Winner's Kiss var ett helt perfekt slut, på en nästintill perfekt serie och det förvånar mig fortfarande lite att den kom att bli en sådan stor favorit hos mig. Men en favorit, det är den, och jag rekommenderar alla att läsa den.