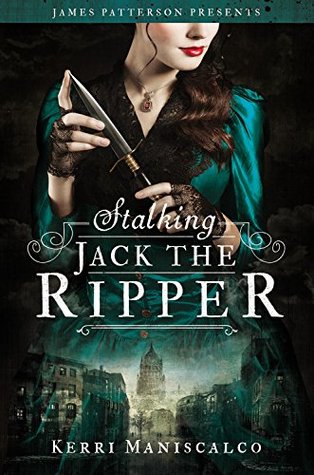 Titel:
Stalking Jack the Ripper
Författare:
Kerri Maniscalco
Serie:
Stalking Jack the Ripper #1
Sidor:
323
Seventeen-year-old Audrey Rose Wadsworth was born a lord's daughter, with a life of wealth and privilege stretched out before her. But between the social teas and silk dress fittings, she leads a forbidden secret life.

Against her stern father's wishes and society's expectations, Audrey often slips away to her uncle's laboratory to study the gruesome practice of forensic medicine. When her work on a string of savagely killed corpses drags Audrey into the investigation of a serial murderer, her search for answers brings her close to her own sheltered world.
Stalking Jack the Ripper verkade ha ett vansinnigt intressant koncept, så självklart ville jag läsa den. Och jag måste säga att den överträffade alla mina förväntningar!
Jack the Ripper fascinerar mig oerhört, och mysteriet bakom honom är så intressant. Jag kan fundera på det faktum att ingen visste vem han var, och att han helt plötsligt bara slutade mörda hur länge som helst. Så givetvis antog jag att det här skulle vara en bok för mig. Handlingen var så spännande, och jag gillade verkligen den här spinnen på Jack the Ripper. Älskade även det vetenskapliga, och flera scener var riktigt obehagliga. Dessutom fick replikskiftet mellan karaktärerna mig att skratta högt vid upprepade tillfällen, samtdigt som det hjälpte till att ta udden av de mer makabra scenerna. Så stort plus för det.
När det kommer till karaktärerna så var både Audrey Rose och Thomas stora favoriter hos mig. Audrey Rose särskilt, eftersom hon var så tuff och smart, och körde sitt eget race trots att så många försökte att kontrollera henne. Samspelet och gnabbandet mellan de båda var fantastiskt, och kemin var spot on.
Stalking Jack the Ripper var en sanslöst bra läsupplevelse, och det fanns inget jag inte älskade med boken. Jag längtar oerhört efter uppföljaren, för jag behöver mer av Audrey Rose, Thomas och deras äventyr. Rekommenderas varmt.
Favoritcitat:
"I was determined to be both pretty and fierce, as Mother had said I could be. Just because I was interested in a man's job didn't mean I had to give up being girly. Who defined those roles anyhow?"
"I glared so hard I feared my face would get stuck that way. "If you ever try anything like that again, I will stab you in the foot, Thomas Cresswell."
"Ah. There's something about you saying my name that sounds like a blessed curse," he said. "If you can work up a good hand gesture to go along with it, that'd be exceptional."