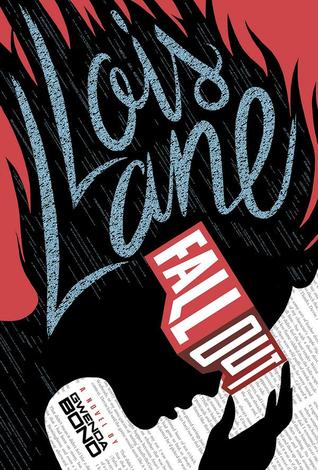 Titel:
Fallout
Författare:
Gwenda Bond
Serie:
Lois Lane #1
Sidor:
303
Lois Lane is starting a new life in Metropolis. An Army brat, Lois has lived all over—and seen all kinds of things. (Some of them defy explanation, like the near-disaster she witnessed in Kansas in the middle of one night.) But now her family is putting down roots in the big city, and Lois is determined to fit in. Stay quiet. Fly straight. As soon as she steps into her new high school, though, she can see it won't be that easy. A group known as the Warheads is making life miserable for another girl at school. They're messing with her mind, somehow, via the high-tech immersive videogame they all play. Not cool. Armed with her wit and her new snazzy job as a reporter, Lois has her sights set on solving this mystery. But sometimes it's all a bit much. Thank goodness for her maybe-more-than-a friend, a guy she knows only by his screenname, SmallvilleGuy.
Om jag ska vara ärlig så har jag aldrig varit särskilt intresserad av Stålmannen. Jag tror att TV-serien med Dean Cain och Teri Hatcher förstörde det hela för mig lite (seriöst, han tar av sig glasögonen och kammar bak håret och hon förstår inte att det är samma person). Men något med Fallout, en bok om den tonåriga Lois Lane, fascinerade mig oerhört och den hamnade därför på min att läsa lista. Och nu när jag läst den kan jag bara säga att mitt första intryck av boken var helt rätt, och jag absolut älskade den.
Handlingen var super. Så spännande och charmig. Jag älskade mysteriet och Lois beslutsamhet. Redan efter första kapitlet var jag helt fast i boken och den fick mig att skratta vid flertalet tillfällen. Slutet var dessutom fantastiskt, och jag längtar så efter nästa bok i serien.
Av karaktärerna så älskade jag Lois. Hon var modig, smart, sarkastisk och bara så härlig. Jag gillade även bi-karaktärerna Maddy, Devin, James och Anavi. Och självklart även Clark Kent, som bara finns med som Lois hemliga och anonyma internetvän. Jag hoppas på mer interaktioner mellan de båda i nästa bok.
Fallout kom som lite av en överraskning, och jag var inte beredd på att tycka SÅ mycket om den. Men det gjorde jag, och jag rekommenderar den gärna till dig som gillar mysterier med tuffa tjejer i huvudrollen.