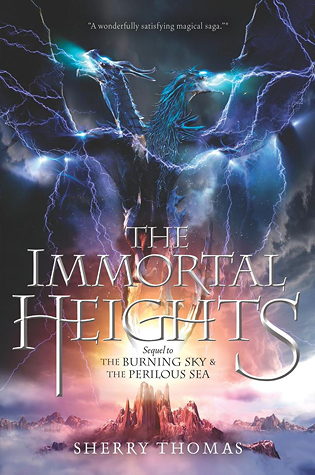 Titel:
The Immortal Heights
Författare:
Sherry Thomas
Serie:
The Elemental Trilogy #3
Sidor:
433
Spoilervarning! Boken ingår i en serie, spoilers från tidigare böcker förekommer.
In a pursuit that has spanned continents, Iolanthe, Titus, and their friends have always managed to remain one step ahead of the forces of Atlantis. But now the Bane, the monstrous tyrant who bestrides the entire mage world, has issued his ultimatum: Titus must hand over Iolanthe, or watch as his entire realm is destroyed in a deadly rampage. Running out of time and options, Iolanthe and Titus must act decisively to deliver a final blow to the Bane, ending his reign of terror for good.

However, getting to the Bane means accomplishing the impossible—finding a way to infiltrate his crypt in the deepest recesses of the most ferociously guarded fortress in Atlantis. And everything is only made more difficult when new prophecies come to light, foretelling a doomed effort…

Iolanthe and Titus will put their love and their lives on the line. But will it be enough?
När jag läste första boken i den här serien så slog den min med häpnad. Även den andra boken var riktigt bra, och jag har givetvis varit nyfiken på hur allt skulle sluta. Om The Immortal Heights levde upp till sina föregångare då? Absolut!

Jag tycker att handlingen här är den mest spännande hittills, och det är så mycket som pågår. Jag är givetvis livrädd för att visionerna det berättas om tidigare ska komma att slå in, och det var näst intill omöjligt att sluta läsa. Jag är dessutom väldigt förtjust i den här världen, och blandningen mellan den magiska världen och 1800-talets vanliga värld som den utspelar sig i. Slutet var dessutom alldeles perfekt för serien, och jag absolut älskade det.

Av karaktärerna så tycker jag så mycket om både Iolanthe och Titus och deras relation är en av mina absoluta favoriter. Den är vacker och enkel och det är svårt att tänka sig några som passar så bra ihop eller respekterar varnadra så mycket som dessa två. Jag tyckte dessutom mycket om Kashkari och Amara.

The Immortal Heights var en riktigt bra avslutning på en utav mina favoritserier. Jag tror nog att den första boken är min favorit i serien, men den här var inte långt efter. Rekommenderas varmt.