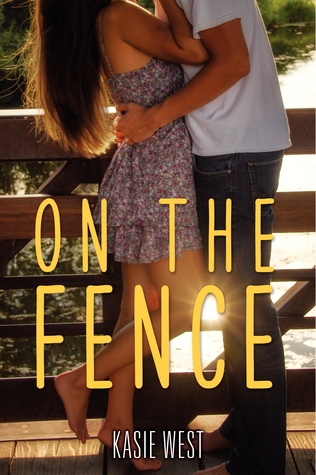 Titel:
On the Fence
Författare:
Kasie West
Serie:
-
Sidor:
293
Charlie Reynolds can outrun, outscore, and outwit every boy she knows. But when it comes to being a girl, Charlie doesn't know the first thing about anything. So when she starts working at a chichi boutique to pay off a speeding ticket, she finds herself in a strange new world. To cope with the stress of her new reality, Charlie takes to spending nights chatting with her neighbor Braden through the fence between their yards. As she grows to depend on their nightly Fence Chats, she realizes she's got a bigger problem than speeding tickets-she's falling for Braden. She knows what it means to go for the win, but if spilling her secret means losing him for good, the stakes just got too high.
Kasie West är en av mina favoritförfattare, och jag har hittills älskat allt jag läst av henne. Jag har längtat väldigt efter On the Fence, och även om det är den bok av West jag gillat sämst, så var den fortfarande väldigt bra.
Jag är aningen tveksam över handlingen. Å ena sidan så älskade jag den potentiella kärleken mellan bästa kompisar, att vara enda tjejen i en familj med bara killar, och att hitta sig själv. Men å andra sidan kändes Charlies problem lite väl banala, och jag hade svårt att förstå vad som var så hemskt med att visa sig
för familjen

i fina kläder och/eller sminkad. Jag tyckte dock väldigt mycket om det om, markera för spoiler -->

Charlies mamma

, spoiler slut, och önskar att lite mer tid hade lagts på det. Mitt slutord får bli att handlingen var mysig och romantisk, men vissa av Charlies problem var aningen för ytliga för min del.
Charlie var en helt okej karaktär, och jag gillade henne för det mesta. Jag gillar att hon var sportig och smart, men ibland önskar jag att hon skulle ta lite mer plats, och att sluta oroa sig så mycket. Jag tyckte även om Charlies pappa och bröder, men min största favorit i den här boken var Braden. Han var väldigt gullig, och jag tyckte mycket om relationen mellan honom och Charlie.
On the Fence var en somrig, romantisk och charmig bok. Inte det bästa jag läst, men fortfarande en väldigt bra bok. Kasie West fortsätter att vara en av mina favoritförfattare, och jag ser redan nu fram emot hennes nästa bok. Rekommenderas.