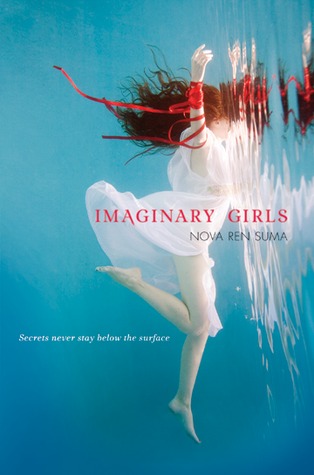 Titel:
Imaginary Girls
Författare:
Nova Ren Suma
Serie:
-
Sidor:
346
Chloe's older sister, Ruby, is the girl everyone looks to and longs for, who can't be captured or caged. When a night with Ruby's friends goes horribly wrong and Chloe discovers the dead body of her classmate London Hayes left floating in the reservoir, Chloe is sent away from town and away from Ruby.

But Ruby will do anything to get her sister back, and when Chloe returns to town two years later, deadly surprises await. As Chloe flirts with the truth that Ruby has hidden deeply away, the fragile line between life and death is redrawn by the complex bonds of sisterhood.
Nova Ren Suma har på kort tid kommit att bli en av mina absoluta favoritförfattare (vilket påminner mig om att jag definitivt måste läsa om 17 & Gone så snart som möjligt). Jag har letat efter en inbunden version av hennes Imaginary Girls, och den fick bara stå ett par dagar i olästhyllan innan jag kastade mig över den. Och sälvklart, självklart, så älskade jag den.

Jag hade egentligen bara tänkt läsa ett par kapitel när jag påbörjade boken, men några timmar senare så tittade jag upp och då var den slut. Redan på första sidan så var jag helt fast i Chloes historia, och Imaginary Girls är en blandning av kuslig, vacker och hjärtekrossande. Precis det jag har kommit att förvänta mig av Nova Ren Suma. Och jag vill egenligen inte säga så mycket mer om handlingen, eftersom jag anser att det här är en bok man mår bäst av att inte veta så mycket om, och att man får dra sina egna slutsatser. Men värd att läsa är den, utan att tveka.

Systrarna Chloe och Ruby har en inte helt hälsosam relation till varandra, men jag kan inte låta bli att älska både karaktärerna och deras systerskap. Det är en relation där man gör vad som helst för den andra, och där man är så sammanbundna att man inte vet vem man är utan sin syster. Det är både tragiskt och vackert, och man måste liksom läsa det för att förstå det.

Slutet var dessutom väldigt speciellt, och jag gillade det verkligen. Imaginary Girls är en oerhört fin bok, full av magi, systerskap och vemod. Den får en given plats i favorithyllan, och jag rekommenderar den mer än gärna.
Favoritcitat:
"There was something to be said for the bodiless feeling that came after the cold. Something I would always remember. When you forget how bad it hurts, you feel so free."
"It was Ruby's favorite kind of story: where the boys lost and the girls won and got a souvenir in the bargain."