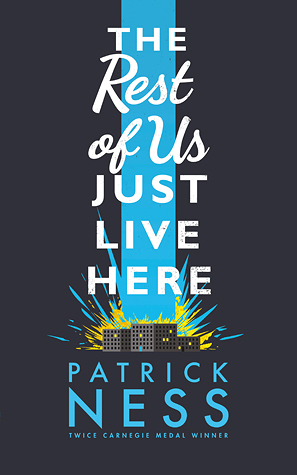 Titel:
The Rest of Us Just Live Here
Författare:
Patrick Ness
Serie:
-
Sidor:
343
What if you aren't the Chosen One?

The one who's supposed to fight the zombies, or the soul-eating ghosts, or whatever the heck this new thing is, with the blue lights and the death?

What if you're like Mikey? Who just wants to graduate and go to prom and maybe finally work up the courage to ask Henna out before someone goes and blows up the high school. Again.

Because sometimes there are problems bigger than this week's end of the world, and sometimes you just have to find the extraordinary in your ordinary life.

Even if your best friend is worshipped by mountain lions.
Från sekunden jag hörde talas om den här boken så visste jag att jag bara måste läsa den. Jag menar, med en sådan synopsis så är det omöjligt att inte bli intresserad. Och jag gillade verkligen The Rest of Us Just Live Here, men problemet är nog att jag gillar idéen om den ännu mer.

För mig som är ett gammalt Buffy fan så är det omöjligt att inte dra paralleller med den här boken och ett par Bufft avsnitt. Och speciellt då avsnitten The Zeppo och Potential. Där Xander och Dawn på olika sätt står i fokus, och att de är de enda i gruppen som inte har egna så kallade krafter. Och gillade man det, då kan jag garantera att du gillar The Rest of Us Just Live Here. Den här boken fokuserar på ungdomarna i bakgrunden, de som inte är hjältar eller ens i närheten av att vara det. Det handlar om deras every day life, samtidigt som man i början av alla kapitel får korta stycken om vad som händer med hjältarna och monstren de slåss mot. Det hela var väldigt spännande, trots att det samtidigt är en bok om nästan ingenting, och som sagt så älskar jag hela konceptet.

Av karaktärerna så gillade jag alla, även om ingen riktigt stod ut. Mikey är en sympatisk karaktär som är lätt att tycka om. Jag gillar Mel, Henna och Jared. Lillasystern Meredith var väldigt charmig, och den enda jag inte tyckte om var Nathan, men ärligt talat så påverkades jag nog mest av Mikeys känslor i det fallet. Så härliga karaktärer, men jag hade behövt mer för att älska dem. Och det var kanske därför inte boken fick full poäng av mig.

The Rest of Us Just Live Here är en riktigt bra bok, det är ingen tvekan om saken. Jag hade dock ändå hoppats på liiite mer, men jag tror snarare att det är mitt fel än författarens. Men jag rekommenderar den gärna, utan att tveka.
Favoritcitat:
"Not everyone has to be the Chosen One. Not everyone has to be the guy who saves the world. Most people just have to live their lives the best they can, doing things that are great for them, having great friends, trying to make their lives better, loving people properly. All the while knowing that the world makes no sense but trying to find a way to be happy anyway."