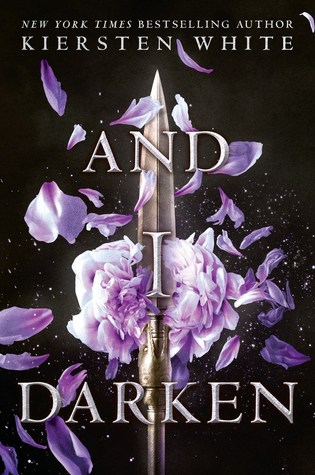 Titel:
And I Darken
Författare:
Kiersten White
Serie:
The Conquerors Saga #1
Sidor:
484
No one expects a princess to be brutal. And Lada Dragwlya likes it that way. Ever since she and her gentle younger brother, Radu, were wrenched from their homeland of Wallachia and abandoned by their father to be raised in the Ottoman courts, Lada has known that being ruthless is the key to survival. She and Radu are doomed to act as pawns in a vicious game, an unseen sword hovering over their every move. For the lineage that makes them special also makes them targets.

Lada despises the Ottomans and bides her time, planning her vengeance for the day when she can return to Wallachia and claim her birthright. Radu longs only for a place where he feels safe. And when they meet Mehmed, the defiant and lonely son of the sultan, Radu feels that he's made a true friend—and Lada wonders if she's finally found someone worthy of her passion.

But Mehmed is heir to the very empire that Lada has sworn to fight against—and that Radu now considers home. Together, Lada, Radu, and Mehmed form a toxic triangle that strains the bonds of love and loyalty to the breaking point.
Jag har tyckt om allt jag läst av Kiersten White hittills, så givetvis var And I Darken ett måste på min att läsa lista. Mina förväntningar var riktigt höga, och jag kan glatt säga att boken levde upp till dessa.

Handlingen är något av en återberättelse på Vlad the Impaler (inspirationen till Stokers Dracula), men där han istället är en tjej, Lada. Det är mycket historia med, och det hela är väldigt fascinerande. Kungariken och maktintrigier, väldigt välskrivet, och spännande även i de mer långsamma partierna. En oerhört lovande start på serien, och där jag längtar efter att få läsa mer.

Lada var en oerhört fascinerande karaktär, och jag älskade henne. Om jag ska vara helt ärlig föredrog jag hennes blodtörstighet när hon var yngre mer än vad jag gjorde när hon blev äldre och aningen mer sansad. Men ändå. Så smart och så grym. Jag ser fram emot att få följa hennes utveckling. Mehmed och Radu var jag inte lika intresserad av, och allra helst Mehmed hade jag svårt för framåt slutet. Men ändå intressanta karaktärer, och jag är helt klart nyfiken på vad som kommer att hända i framtiden.

And I Darken var mastig och sanslöst fascinerande. Och med en karaktär som Lada så kunde jag inget annat än att älska den. Jag har väldigt höga förväntningar på uppföljaren, och jag har redan börjat räkna ner dagarna tills dess release. Rekommenderas varmt.