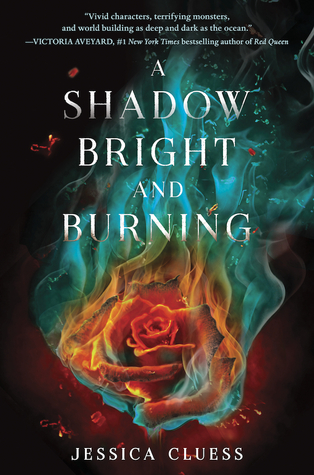 Titel:
A Shadow Bright and Burning
Författare:
Jessica Cluess
Serie:
Kingdom on Fire #1
Sidor:
404
I am Henrietta Howel. The first female sorcerer. The prophesied one. Or am I?

Henrietta Howel can burst into flames. When she is brought to London to train with Her Majesty's sorcerers, she meets her fellow sorcerer trainees, young men eager to test her powers and her heart. One will challenge her. One will fight for her. One will betray her. As Henrietta discovers the secrets hiding behind the glamour of sorcerer life, she begins to doubt that she's the true prophesied one. With battle looming, how much will she risk to save the city--and the one she loves?
Jag blev jättesugen att läsa den här boken så snart jag hörde talas om den, och förhandsbokade den flera månader innan dess release. Ju närmre releasedatumet kom dock, desto fler negativa recensioner såg jag (inte jättemånga, men det finns en del). Trots detta så kände jag mig ändå peppad, och det dröjde bara några dagar innan jag läste den. Vad jag tyckte då? Läs vidare så får ni se.

Som sagt så såg jag en del negativa recensioner, och blev aningen orolig. Och visst kan jag erkänna att det kanske inte är den mest originella bok. Vissa av idéerna har setts förut, och karaktärerna och världen är inte alltid så utvecklade som jag hade önskat. Logiskt sett fanns det mycket jag hade kunnat störa mig på, och vid ett annat tillfälle hade jag kanske också gjort det. Men nu tyckte jag istället mycket om den. Handlingen är konstant action och magi. Den fick mig att skratta högt flera gånger, och slutet var så spännande. Jag gillar dessutom världen mycket, även om den är lite outvecklad (jag vill ha mer bakgrund, mer förklaringar, mer..helt enkelt). Men magiker i viktorianska England, som slåss mot demoner. Kvinnor som slåss för sin plats i samhället, och ett helt gäng med härliga killar? Sign me up!

Jag gillade Henrietta. Mycket. Jag gillade att hon stod upp för sig själv, och att hon krävde mera. Att hon inte bara accepterade sin lott i livet, utan kämpade för något mer. Jag tyckte dessutom mycket om Magnus (han var min favorit), Blackwood och de övriga. Deras vänskap var så härlig. Rook däremot har jag dock inga särskilda känslor för. Jag tyckte inte att hans och Henriettas relation kändes äkta, och den fick mig aldrig att känna något (helt ärligt så var jag mest glad -->

när jag trodde att han var död

). Tyvärr.

A Shadow Bright and Burning var oerhört underhållande, och jag tyckte väldigt mycket om den. Ser fram emot fortsättningen, och rekommenderar den gärna.