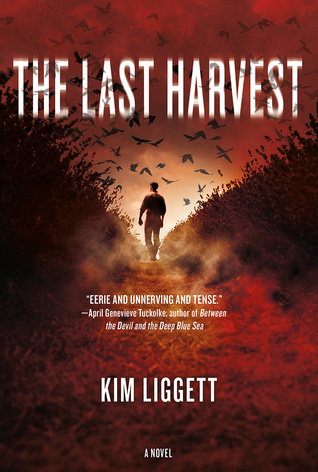 Titel:
The Last Harvest
Författare:
Kim Liggett
Serie:
-
Sidor:
348
"I plead the blood."

Those were the last words seventeen-year-old golden boy quarterback Clay Tate heard rattling from his dad's throat when he discovered him dying on the barn floor of the Neely Cattle Ranch, clutching a crucifix to his chest.

Now, on the first anniversary of the Midland, Oklahoma slaughter, the whole town's looking at Clay like he might be next to go over the edge. Clay wants to forget the past, but the sons and daughters of the Preservation Society—a group of prominent farmers his dad accused of devil worship—won't leave him alone. Including Ali, his longtime crush, who suddenly wants to reignite their romance after a year of silence, and hated rival Tyler Neely, who's behaving like they're old friends.

Even as Clay tries to reassure himself, creepy glances turn to sinister stares and strange coincidences build to gruesome rituals—but when he can never prove that any of it happened, Clay worries he might be following his dad down the path to insanity...or that something far more terrifying lies in wait around the corner.
Jag har tidigare läst Blood and Salt av Kim Liggett och älskade den. Så självklart var jag även intresserad av hennes nya bok, The Last Harvest. Och efter att ha läst den så måste jag bara säga att Liggett är en fena på det här med obehagliga och skrämmande böcker.

Jag hade dock knappt någon tid att läsa alls när jag påbörjade den, och därför tog det flera dagar för mig att läsa ut den (vilket i mitt fall är väldigt ovanligt). En sådan här bok förtjänar liksom att läsas i ett svep, för handlingen var otroligt spännande och väldigt obehaglig. Det hände så mycket konstiga saker och större delen av tiden hade jag ingen aning om vad som egentligen pågick. Älskade religionen och dess inblandning, vilken jag inte hade en aning om när jag väl började läsa. Mycket mer än så vill jag inte säga om handlingen, kanske mest för att jag tycker att man bör upptäcka den själv. Men The Last Harvest var helt enkelt super creepy och väldigt trollbindande.

Mitt enda problem med boken var att jag inte var särskilt investerad i karaktärerna och deras liv, men samtidigt så är det inte något som krävs i en skräckbok. Det är ändå så att man aldrig vet vem som kommer att klara sig eller inte. Lillasystern Noodle var dock min favorit, och det var även väldigt lätt att sympatisera med Clay. Trots att han, för mig, ändå inte var särskilt speciell.

The Last Harvest var dock riktigt obehaglig, och det där slutet kommer nog att leva kvar länge hos mig. Väldigt imponerande, och jag ser fram emot att läsa mer av Liggett i framtiden.