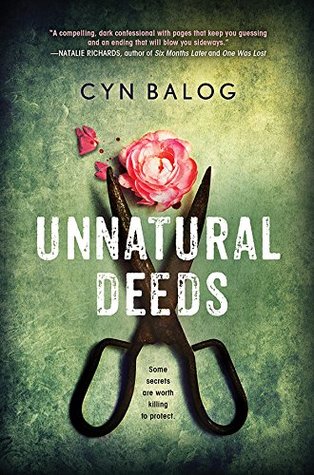 Titel:
Unnatural Deeds
Författare:
Cyn Balog
Serie:
-
Sidor:
270
Victoria Zell doesn't fit in, not that she cares what anyone thinks. She and her homeschooled boyfriend, Andrew, are inseparable. All they need is each other. That is, until Zachary Zimmerman joins her homeroom. Within an hour of meeting, he convinces good-girl Vic to cut class. And she can't get enough of that rush.

Despite Vic's loyalty to Andrew, she finds her life slowly entwining with Z's. Soon she's lying to everyone she knows and breaking all the rules to be with Z. She can't get enough of him—or unraveling the stories of the family he's determined to keep hidden.

Except Z's not the only one with a past. Straight-laced Vic is hiding her own secrets…secrets that are about to destroy everything in her path.
Det jag mest fastande för när det kommer till Unnatural Deeds var faktiskt dess otroligt snygga omslag. Jag visste att det skulle vara en sorts thriller, och det brukar jag ju gilla. Så utan att veta mer än så beställde jag hem den, och det var definitivt en intressant läsupplevelse.

Jag kan gott tänka mig att det här inte ä en bok som passar alla, men jag gillade den mestadels. Boken berättas ur Victorias perspektiv till pojkvännen Andrew, och det förekommer korta klipp från intervjuer och liknande i början av varje kapitel. Man förstår att det är något som har hänt, men man vet inte riktigt vad. Det är en berättelse om kärlek och besatthet och den tunna linjen de båda vandrar. Slutet var riktigt chockerande, och inte alls vad jag hade väntat mig. Så stort plus för det.

När det kommer till karaktärerna så njöt jag av att läsa om dem, även om jag inte föll för någon av dem. Vic kändes lite tråkig, och det var inte förrän Z drog ur henne ur hennes skal som hon fick en riktig personlighet. Z kändes opålitlig och manipulativ, men relationen mellan de båda var vansinnigt spännande att läsa om. Andrew däremot fick jag ingen känsla alls för, och jag såg inte eller några starka känslor till honom från Vics sida. Hon berättar liksom om hur mycket hon älskar honom, men det märktes tyvärr aldrig. Och just därför så känner jag mig också lite kluven till hur det hela slutade.

Unnatural Deeds var väldigt intressant, men det var samtidigt något som saknades. Om jag fått en större känsla/förståelse för relationen mellan Vic och Andrew så hade jag kanske blivit mer imponerad. Men trots det så var det ett riktigt snyggt slut, och jag i det stora hela så gillade jag den här boken.