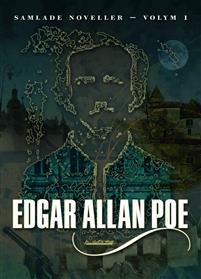 Titel:
Samlade noveller, volym 1
Författare:
Edgar Allan Poe
Serie:
-
Sidor:
334
Edgar Allan Poe - skräckromantikens urgestalt, en av artonhundratalets mest genomträngande och förbluffande författare.

Detta är ett limhäftat nytryck av volym ett: Den svarta katten, Morden på Rue Morgue, Mysteriet Marie Roget, Guldskalbaggen, En nedfärd i Malströmmen, Det stulna brevet, Hjärtat som skvallrade, William Wilson, Berenice, Huset Ushers undergång, Ett fat amontillado, Röda dödens mask, Du är mannen!, Den avlånga lådan, Fakta i Ernest Valdemars fall och Hoppgrodan.
Samlade noveller, volym 1 består av 16 av Edgar Allan Poes mest kända noveller. Några har jag läst innan, på engelska, men de flesta var helt nya för mig, då jag är mer bekant med Poes poesi än med hans prosa. Mina favoriter var Morden på Rue Morgue, Berenice, Hoppgrodan, samt Huset Ushers undergång, Röda dödens mask och Hjärtat som skvallarade (de tre sistnämnda är gamla favoriter).

Det var en mycket bra översättning här, men jag anser ändå att Poes språk gör sig betydligt bättre i originalform. Att Poe var ett litterärt geni är knappast någon överraskning, och jag är glad att äntligen fått läsa lite mer av honom.
Titel:
Steampunk Poe
Författare:
Edgar Allan Poe, illustrations by Zdenko Bašić & Manuel Sumberac
Serie:
-
Sidor:
263
If you combined clockwork gears, parasols, and air balloons with Edgar Allan Poe, what would you get? Steampunk: Poe! This is the first collection ever of Poe stories illustrated with the influence of steampunk. Running Press Teens has selected some of the most popular, thrilling, and memorable stories and poems by the classic 19th century American writer whose literary talent continues to open the mind to countless interpretations.

Every Poe story and poems is fully illustrated with steampunk-inspired art—from 1920s aviation gear to elaborate musical instruments—creating a fresh perspective on his work containing bizarre characters of madmen and mystery. Just in time for Halloween, Steampunk: Poe is the perfect classic horror choice with a haunting steampunk twist!
Den här boken har legat halvt om halvt oläst i bokhyllan sedan jag fick den för flera år sedan. Det är en jag ofta återvänder till, antingen för att läsa någon novell lite då och då (mina favoriter har jag läst flera gånger), eller återbesöka dikterna (vilket sker betydligt oftare). Dock har jag aldrig tagit tag i hela boken så här på en gång.
Älskar novellerna och dikterna, men är lite besviken att Annabel Lee inte finns med eftersom det är min favorit av Poes dikter. Som jag nämnde i recensionen ovan så gör sig Poe bättre på originalspråk, och ibland är det så vackert att jag går sönder lite. Dessutom är steampunk bilderna fantastiskt vackra, och det här är utan tvekan en av de snyggaste böckerna jag äger.
Lite osäker på betyget, men för tillfälligt kör jag på;