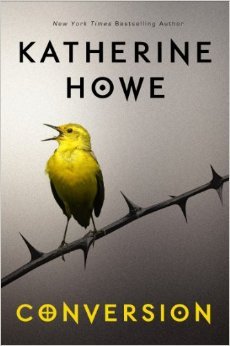 Titel:
Conversion
Författare:
Katherine Howe
Serie:
-
Sidor:
402
It's senior year at St. Joan's Academy, and school is a pressure cooker. College applications, the battle for valedictorian, deciphering boys' texts: Through it all, Colleen Rowley and her friends are expected to keep it together. Until they can't.

First it's the school's queen bee, Clara Rutherford, who suddenly falls into uncontrollable tics in the middle of class. Her mystery illness quickly spreads to her closest clique of friends, then more students and symptoms follow: seizures, hair loss, violent coughing fits. St. Joan's buzzes with rumor; rumor blossoms into full-blown panic.

Soon the media descends on Danvers, Massachusetts, as everyone scrambles to find something, or someone, to blame. Pollution? Stress? Or are the girls faking? Only Colleen—who's been reading The Crucible for extra credit—comes to realize what nobody else has: Danvers was once Salem Village, where another group of girls suffered from a similarly bizarre epidemic three centuries ago...
Efter att ha sett en #TwitterGhostStory av Katherine Howe så blev jag intresserad av att läsa någonting av henne, och köpte därför genast Conversion när jag såg den på SF-Bokhandeln. Jag hade inga egentliga förväntningar när jag väl började läsa, och det var kanske just därför som jag tyckte så mycket om den.
Handlingen var väldigt spännande, och det var i princip omöjligt att sluta läsa. Det är dock knappt någon action, men stämningen var så gripande att jag genast fastande för boken. Samtidigt som man följer Colleen och den mystiska sjukdomen som drabbar hennes skola, så följer man också vittnesmålet från en av personerna närvarande vid Häxprocesserna i Salem i slutet av 1600-talet. Båda fallen liknar varandra, och det är svårt att veta vad som egentligen pågår. Så Conversion var helt klart en mycket spännande bok och den gav mig en krypande känsla av obehag som var väldigt fascinerande.
Av karaktärerna så hittade jag inga favoriter, och det är inte ofta jag gillar en bok så här mycket utan att också ha fastnat för någon eller några av karaktärerna. Colleen var helt okej, men jag hade väldigt svårt att relatera till henne. Jag kände samma sak för hennes vänner, men däremot gillade jag minsta systern, Wheez, mycket. Trots att hon bara var en mindre bi-roll.
Conversion var helt klart en positiv överraskning, och jag gillade den verkligen. Jag kommer definitivt att läsa mer av Katherine Howe i framtiden, och jag rekommenderar den gärna.