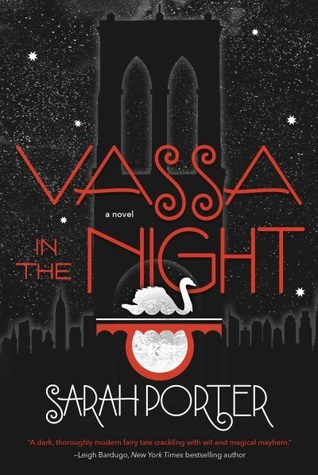 Titel:
Vassa in the Night
Författare:
Sarah Porter
Serie:
-
Sidor:
296
In the enchanted kingdom of Brooklyn, the fashionable people put on cute shoes, go to parties in warehouses, drink on rooftops at sunset, and tell themselves they've arrived. A whole lot of Brooklyn is like that now—but not Vassa's working-class neighborhood.

In Vassa's neighborhood, where she lives with her stepmother and bickering stepsisters, one might stumble onto magic, but stumbling out again could become an issue. Babs Yagg, the owner of the local convenience store, has a policy of beheading shoplifters—and sometimes innocent shoppers as well. So when Vassa's stepsister sends her out for light bulbs in the middle of night, she knows it could easily become a suicide mission.

But Vassa has a bit of luck hidden in her pocket, a gift from her dead mother. Erg is a tough-talking wooden doll with sticky fingers, a bottomless stomach, and a ferocious cunning. With Erg's help, Vassa just might be able to break the witch's curse and free her Brooklyn neighborhood. But Babs won't be playing fair…
När det kommer till Vassa in the Night så vet jag faktiskt inte riktigt vad det var som lockade mig att läsa den. När jag först hörde talas om den hade jag inget intresse alls, men ju närmare dess releasedatum, desto nyfiknare blev jag. Sagt och gjort så beställde jag till sist hem den, och nu i efterhand så kan jag säga att jag tyckte väldigt mycket om den.

Helt ärligt dock, det här är förmodligen den mest konstiga bok jag någonsin läst. Seriöst. Handlingen är en re-telling av den ryska sagan Vasilisa the Beautiful. Här handlar det om Vassa som bor i Brooklyn, i en värld då nätterna är vansinnigt långa, hon äger en levande docka, och blir tvungen att arbeta tre nätter i en dansande affär som hugger huvudet av den som försöker stjäla. Visst låter det normalt och lättsamt...eller? Vassa in the Night kan tyckas vara för konstig för att ge en chans. Men den är full av magi och mystik, med en charmig huvudkaraktär och ett vansinnigt vackert språk. Och så värd det.

Vassa själv var väldigt härlig. Jag gillade att hon var lite sassy, så där, och bara allmänt charmig. Det fanns de tillfällen så jag inte var helt nöjd med henne dock, men i slutet så förstår man varför -->

hon var ju ändå bara en "halv" person, kanske inte konstigt att hon kändes lite udda emellanåt

, spoilers slut. Bi-karaktärerna vill jag inte riktigt prata om, eftersom man mår bäst av att upptäcka dem själv. Men jag gillade systern Chelsea i alla fall.

Vassa in the Night är så annorlunda. Konstig, men magisk och vacker. Värd att läsa om man gillar såna saker, men var beredd på att det inte är en bok för alla. Jag gillade den dock. Mycket!