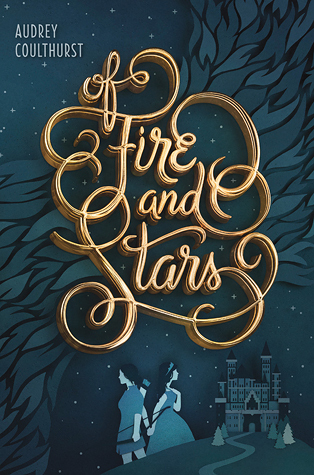 Titel:
Of Fire and Stars
Författare:
Audrey Coulthurst
Serie: - ?
Sidor:
389
Betrothed since childhood to the prince of Mynaria, Princess Dennaleia has always known what her future holds. Her marriage will seal the alliance between Mynaria and her homeland, protecting her people from other hostile lands. But Denna has a secret. She possesses an Affinity for fire—a dangerous gift for the future queen of a kingdom where magic is forbidden.

Now, Denna must learn the ways of her new home while trying to hide her growing magic. To make matters worse, she must learn to ride Mynaria's formidable warhorses—and her teacher is the person who intimidates her most, the prickly and unconventional Princess Amaranthine—called Mare—the sister of her betrothed.

When a shocking assassination leaves the kingdom reeling, Mare and Denna reluctantly join forces to search for the culprit. As the two become closer, Mare is surprised by Denna's intelligence and bravery, while Denna is drawn to Mare's independent streak. And soon their friendship is threatening to blossom into something more.

But with dangerous conflict brewing that makes the alliance more important than ever, acting on their feelings could be deadly. Forced to choose between their duty and their hearts, Mare and Denna must find a way to save their kingdoms—and each other.
Of Fire and Stars var ett av årets mest efterlängtade boksläpp för min del, och jag längtade och längtade. Men ju närmare releasedatumet vi kom, desto fler negative recensioner började trilla in. Och jag tappade liksom intresset lite. Så när jag väl började läsa så var inte mina förväntningar särskilt höga, och det var kanske just därför som jag kom att tycka om den så mycket.

Jag kan förstå varför det inte är en bok för alla, men personligen så har jag inget emot den här lite mer långsamma fantasyn, där relationer och palatsintriger står i fokus. Of Fire and Stars är en ganska lågmäld bok, men ändå en som genast grep tag i mig. Jag älskade att se relationen mellan Denna och Mare byggas upp. Från ogillande, till vänskap, till romans. Att se karaktärerna växa för varje kapitel, tills de båda vågade göra sina egna val. Jag gillade handlingen med magi och mysterium också, men det är främst en karaktärsdriven bok. Och om inte annat så är det väl så att vi behöver mer queer high fantasy här i världen?

Mare var nog min favorit av karaktärerna, men Denna var den som utvecklades mest, och hon växte så mycket under bokens gång. Båda två var oerhört charmiga, och jag gillade dem både vare för sig och (framför allt) tillsammans. Bi-karaktärerna var inte särskilt intressanta annat än att nästan alla gjorde mig förbannad, men jag hade ett gott öga till Nils (är inte okej med slutet där).

Of Fire and Stars fungerar alldeles utmärkt som en stand alone, men personligen kan jag inte annat än att hoppas på en uppföljare. Jag vill ha mer, mer, mer. En långsam och vacker fantasy, och med ett av de bästa kärleksparen hittills. En klar överraskning, och en bok jag mer än gärna rekommenderar.