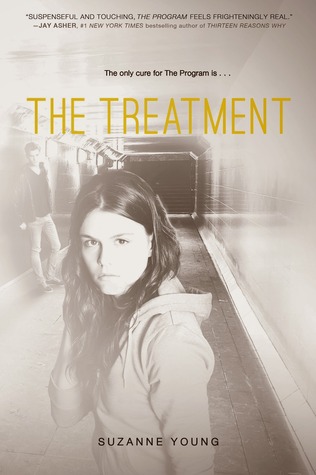 Titel:
The Treatment
Författare:
Suzanne Young
Serie:
The Program #2
Sidor:
344
Spoilervarning! Boken ingår i en serie, spoilers från tidigare böcker förekommer.
How do you stop an epidemic?

Sloane and James are on the run after barely surviving the suicide epidemic and The Program. But they're not out of danger. Huge pieces of their memories are still missing, and although Sloane and James have found their way back to each other, The Program isn't ready to let them go.

Escaping with a group of troubled rebels, Sloane and James will have to figure out who they can trust, and how to take down The Program. But for as far as they've come, there's still a lot Sloane and James can't remember. The key to unlocking their past lies with the Treatment—a pill that can bring back forgotten memories, but at a high cost. And there's only one dose.

Ultimately when the stakes are at their highest, can Sloane and James survive the many lies and secrets surrounding them, or will The Program claim them in the end?
Jag läste första boken i den här duologin, The Program, för cirka två år sedan och jag absolut älskade den. Så när The Treatment släpptes förra året så köpte jag genast hem den, men sedan blev den liggandes oläst i bokhyllan i nästan ett år till. Som så många andra böcker, ni vet. Men nu har jag iallafall äntligen läst den och fann att det var en riktigt bra bok, även om den tyvärr inte levde upp till sin föregångares nivå.
Handlingen var väldigt spännande, men inte alls lika hjärtskärande som i den första boken. Jag är dock väldigt förtjust i den här dystopiska världen med sin självmordsepidemi, och jag finner den mycket skrämmande. Det som störde mig mest med The Treatment var dock den påtvingade kärlekstriangeln som uppstod, och den förstörde så mycket av det som var bra med den första boken. James och Sloanes relation har varit så fin och äkta fram tills det här, och det kändes bara som onödigt drama. Så lite av en besvikelse blev det faktiskt, tyvärr.
Även karaktärerna var aningen sämre än i första boken, och mestadels för att jag tyckte att Sloane uppförde sig så annorlunda mot vad hon gjorde i The Program. Alltså jag vet ju att hon både har tappat sina minnen och blivit aningen hjärntvättad, men i slutet av The program så hade hon ju fortfarande kvar sin personlighet. Här var det dock som om att man helt ändrade på den, och mest bara för att kunna införa en triangel och konflikter. Jag var så besviken på att hennes känslor för Realm helt plötsligt var så starka, och allra helst eftersom jag tycker att han är en ganska så vedervärdig person. Även nykomlingen Dallas var en sådan fruktansvärd bitch i början att jag fortfarande inte kunde tvinga mig att gilla henne framåt slutet. Den enda karaktären som faktiskt höll måttet under bokens gång var James och jag tycker så mycket om honom. Dessutom älskar jag relationen mellan honom och Sloane.
Slutet av boken var väldigt bra, och jag är mycket nöjd med själva upplösningen (även om jag hade velat haft lite mer av en förklaring på hur epidemin uppstod). Tyvärr så var den inte riktigt lika bra som The Program, men det här är ändå en serie som jag gärna rekommenderar.