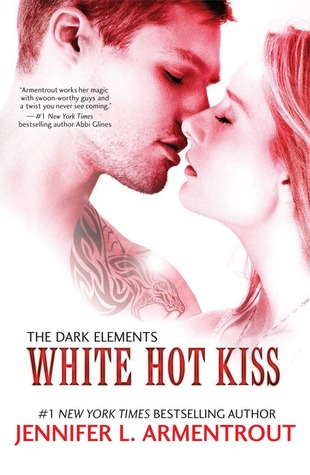 Titel:
White Hot Kiss
Författare:
Jennifer L. Armentrout
Serie:
The Dark Elements #1
Sidor:
392
Seventeen-year-old Layla just wants to be normal. But with a kiss that kills anything with a soul, she's anything but normal. Half demon, half gargoyle, Layla has abilities no one else possesses.

Raised among the Wardens—a race of gargoyles tasked with hunting demons and keeping humanity safe—Layla tries to fit in, but that means hiding her own dark side from those she loves the most. Especially Zayne, the swoon-worthy, incredibly gorgeous and completely off-limits Warden she's crushed on since forever.

Then she meets Roth—a tattooed, sinfully hot demon who claims to know all her secrets. Layla knows she should stay away, but she's not sure she wants to—especially when that whole no-kissing thing isn't an issue, considering Roth has no soul.

But when Layla discovers she's the reason for the violent demon uprising, trusting Roth could not only ruin her chances with Zayne… it could brand her a traitor to her family. Worse yet, it could become a one-way ticket to the end of the world.
Jennifer L. Armentrout är ju en av mina favoritförfattare, men något har ändå gjort att White Hot Kiss har legat oläst hemma i bokhyllan. Förmodligen så är det för att jag varit väl medveten om att serien innehåller en kärlekstriangel, och det är något jag oftast inte uppskattar. Hur som helst så plockade jag äntligen upp boken, och fann att White Hot Kiss var, för det mesta, en väldigt bra bok.
Handlingen är ganska spännande, och det märks att JLA är ett Supernatural fan. Men med demoner, gargoyles och romans har White Hot Kiss något för nästan alla, och jag var väldigt förtjust i handlingen. Själva kärlekstriangeln är dock något som störde mig mycket, och jag tyckte inte alls om den. Delvis för att jag ogillade Zayne redan från början, och delvis för att jag är emot trianglar av en ren princip sak. Jag är alltså är självklart Team Roth. Dock tror jag att nästa bok kommer att göra sitt bästa för att få mig att ändra mig, och jag ser fram emot att låta den försöka.
Karaktärerna var bokens allra svagaste sida, och när man är van tjejer som Alex (Covenant) eller Katy (Lux), då ligger liksom Layla i lä. Redan från början kändes hon svag och hjärntvättad, och jag fattade inte tycke för henne förrän framåt slutet. Förhoppningsvis så håller utvecklingen i sig i resten av serien, för jag kan verkligen inte med karaktärer som inte kan stå upp för sig själv.
Av killarna så ogillade jag genast Zayne. Han försöker bestämma över Layla, håller henne i ovisshet, låter andra skada henne, ignorerar henne, och samtidigt så kommer det självklart att komma fram att han gillat henne hela tiden. Och det gör mig bara så irriterad. Roth var så mycket bättre, och det säger mycket med tanke på att han är en demon. Han litade på Layla, han stöttade och hjälpte henne, och han var fruktansvärt charmig under tiden. Jag hoppas verkligen att hon kommer att välja honom i slutet..
Slutet var riktigt spännande, och jag ser fram emot att få läsa fortsättningen. Med svaga karaktärer och en jobbig kärlekstriangel så är det långt ifrån den bästa bok jag läst. Handlingen väger dock upp mycket, och trots att White Hot Kiss saknar lite av JLAs vanliga magi, så var det ändå en väldigt bra bok som jag gärna rekommenderar.