Titel:
Lies We Tell Ourselves
Författare:
Robin Talley
Serie:
-
Sidor:
368
It's 1959. The battle for civil rights is raging. And it's Sarah Dunbar's first day of school, as one of the first black students at the previously all-white Jefferson High. No one wants Sarah there. Not the Governor. Not the teachers. And certainly not the students – especially Linda Hairston, daughter of the town's most ardent segregationist. Sarah and Linda have every reason to despise each other. But as a school project forces them to spend time together, the less their differences seem to matter. And Sarah and Linda start to feel something they've never felt before. Something they're both determined ignore. Because it's one thing to be frightened by the world around you - and another thing altogether when you're terrified of what you feel inside.
Den här boken var något av ett impulsköp, men det visade sig vara ett riktigt bra ett eftersom jag absolut älskade Lies We Tell Ourselves. Handlingen gjorde mig fruktansvärt arg, samtidigt som den var så gripande. Jag tror det här med slaveriet, och integreringen som följde är lite svårt att förstå, kanske allra helst om man lever i ett land som Sverige, och det var så många saker som upprörde mig här. Sarah och hennes vänner var dock oerhört modiga, och jag imponeras över hur väl de hanterade allt, samtidigt som jag led med allt de var tvungna att gå igenom. Jag gillade dessutom både Sarah och Linda mycket, och deras relation var, till sist, fantastiskt fin.
Lies We Tell Ourselves är en väldigt viktig och bra bok, och en som jag mer än gärna rekommenderar absolut alla att läsa.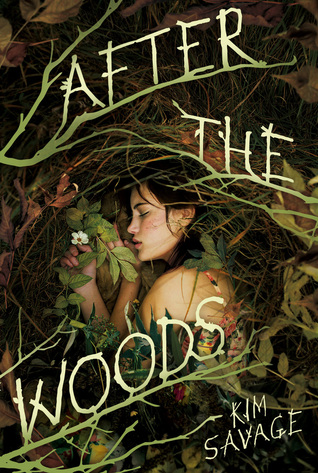 Titel:
After the Woods
Författare:
Kim Savage
Serie:
-
Sidor:
294
Would you risk your life to save your best friend?
Julia did. When a paroled predator attacked Liv in the woods, Julia fought back and got caught. Liv ran, leaving Julia in the woods for a terrifying 48 hours that she remembers only in flashbacks. One year later, Liv seems bent on self-destruction, starving herself, doing drugs, and hooking up with a violent new boyfriend. A dead girl turns up in those same woods, and Julia's memories resurface alongside clues unearthed by an ambitious reporter that link the girl to Julia's abductor. As the devastating truth becomes clear, Julia realizes that after the woods was just the beginning.
Jag har velat läsa After the Woods sedan jag först hörde talas om den. Den var dock inte riktigt vad jag förväntat mig, men jag tyckte väldigt mycket om den ändå. Spännande, psykologiskt gripande
, och där det som hände efter attacken kanske var det värsta. Jag gillade dessutom Julia mycket, och fann henne att vara en väldigt fascinerande karaktär. After the Woods var skickligt berättad, och jag ser fram emot att läsa mer av Kim Savage i framtiden.
8 / 10