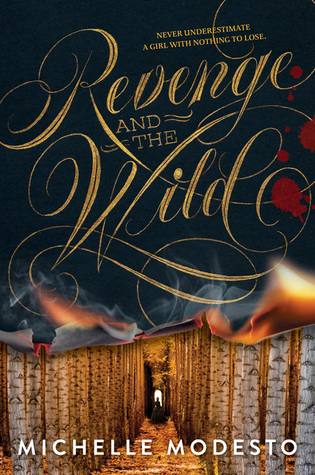 Titel:
Revenge and the Wild
Författare:
Michelle Modesto
Serie:
-
Sidor:
373
The two-bit town of Rogue City is a lawless place, full of dark magic and saloon brawls, monsters and six-shooters. But it's perfect for seventeen-year-old Westie, the notorious adopted daughter of local inventor Nigel Butler.

Westie was only a child when she lost her arm and her family to cannibals on the wagon trail. Nine years later, Westie may seem fearsome with her foul-mouthed tough exterior and the powerful mechanical arm built for her by Nigel, but the memory of her past still haunts her. She's determined to make the killers pay for their crimes—and there's nothing to stop her except her own reckless ways.

But Westie's search ceases when a wealthy family comes to town looking to invest in Nigel's latest invention, a machine that can harvest magic from gold—which Rogue City desperately needs as the magic wards that surround the city start to fail. There's only one problem: the investors look exactly like the family who murdered Westie's kin. With the help of Nigel's handsome but scarred young assistant, Alistair, Westie sets out to prove their guilt. But if she's not careful, her desire for revenge could cost her the family she has now.
Jag hade egentligen inte någon större koll på Revenge and the Wild, men den hamnade på min att läsa lista efter att jag sett kombinationen western och kannibaler. Jag passade genast på att förhandsboka den, och slängde mig i princip över den så fort den kom. Och jag måste säga att den överraskade mig på ett mycket positivt sätt.

Handlingen är en salig blandning av gammal western, med steampunk element, en massa paranormala varelser (vampyrer, varulvar, troll..you name it), kannibaler och hämnd. Det är så mycket att det inte borde fungera, men det gör det, och det är en av de mest intressanta handlingar jag stött på. Och just själva alltet med kannibalerna gjorde mig mer eller mindre skräckslagen. Revenge and the Wild innehåller liksom någonting för alla.

Karaktärerna är också fantastiska, och Westie själv är långt ifrån en dam i nöd. Hon kan slåss, hon svär, och hon har ett oerhört humör. Hon var dessutom både modig, smart och rolig, och kanske en av de bästa kvinnliga karaktärer jag sett på länge. Jag tyckte även mycket om Alistair, Nigel och Costin. Och romansen i boken var bara för charmig, extra plus för att den inte tog upp någon större del av handlingen.

Revenge and the Wild var en mycket positiv överraskning, och då hade jag ändå räknat med att jag skulle tycka om den. Med en fenomenal handling och en enastående huvudkaraktär så får den en given plats på min favorithylla. Rekommenderas varmt.