Titel:
Bookishly Ever After
Författare:
Isabel Bandeira
Serie:
Ever After #1
Sidor:
372
In a perfect world, sixteen-year-old Phoebe Martins' life would be a book. Preferably a YA novel with magic and a hot paranormal love interest. Unfortunately, her life probably wouldn't even qualify for a quiet contemporary. But when Phoebe finds out that Dev, the hottest guy in the clarinet section, might actually have a crush on her, she turns to her favorite books for advice. Phoebe overhauls her personality to become as awesome as her favorite heroines and win Dev's heart. But if her plan fails, can she go back to her happy world of fictional boys after falling for the real thing?
Från den första stunden jag hörde talas om Bookishly Ever After så visste jag att jag måste läsa den. Förväntningarna var riktigt höga, och jag måste säga att boken helt klart levde upp till dem.
Handlingen var jättecharmig och romantisk. Jag älskade hur Phoebe försökte ta hjälp från sina favoritkaraktärer och hela alltet var bara så mysigt. Karaktärerna var väldigt härliga, och jag älskade Phoebe och Dev. Tyckte även väldigt bra om alla bi-karaktärerna, och slutet var fantastiskt. Jag rekommenderar mer än gärna Bookishly Ever After till alla bokälskare därute.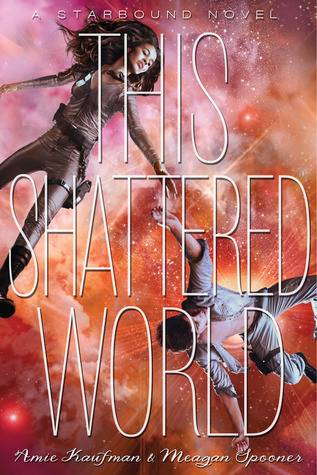 Titel:
This Shattered World
Författare:
Amie Kaufman & Meagan Spooner
Serie:
Starbound #2
Sidor:
390
Spoilervarning! Boken ingår i en serie, spoilers från tidigare böcker förekommer.
Jubilee Chase and Flynn Cormac should never have met.

Lee is captain of the forces sent to Avon to crush the terraformed planet's rebellious colonists, but she has her own reasons for hating the insurgents.

Rebellion is in Flynn's blood. Terraforming corporations make their fortune by recruiting colonists to make the inhospitable planets livable, with the promise of a better life for their children. But they never fulfilled their promise on Avon, and decades later, Flynn is leading the rebellion.

Desperate for any advantage in a bloody and unrelentingly war, Flynn does the only thing that makes sense when he and Lee cross paths: he returns to base with her as prisoner. But as his fellow rebels prepare to execute this tough-talking girl with nerves of steel, Flynn makes another choice that will change him forever. He and Lee escape the rebel base together, caught between two sides of a senseless war.
Jag läste första boken i den här serien för över två år sedan, och älskade den, så varför det har dröjt mig så länge att läsa fortsättningen är för mig en gåta. Jag gillade verkligen This Shattered World, även om föregångaren var snäppet bättre. Början här var full av action och spänning, men jag tyckte att mittendelen blev lite seg, och slutet kändes aningen förhastat. Det hände för mycket på för få sidor, jag hade hellre velat se det lite mer utdraget. Jag föll inte eller för karaktärerna på samma sätt som jag gjorde med Tarver & Lilac, och min favoritdel med This Shattered World var Tarvers bi-roll.
Dock en väl värdig uppföljare, som jag tyckte mycket om, och jag ska genast kasta mig över den avslutande delen i trilogin.