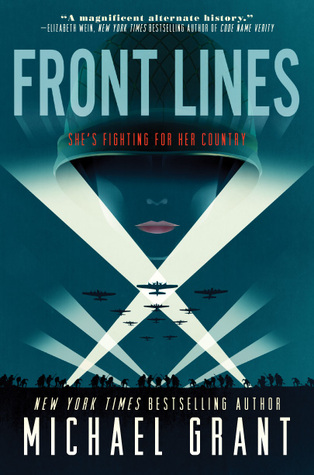 Titel:
Front Lines
Författare:
Michael Grant
Serie:
Soldier Girl #1
Sidor:
542
1942. World War II. The most terrible war in human history. Millions are dead; millions more are still to die. The Nazis rampage across Europe and eye far-off America.

The green, untested American army is going up against the greatest fighting force ever assembled—the armed forces of Nazi Germany.

But something has changed. A court decision makes females subject to the draft and eligible for service. So in this World War II, women and girls fight, too.

As the fate of the world hangs in the balance, three girls sign up to fight. Rio Richlin, Frangie Marr, and Rainy Schulterman are average girls, girls with dreams and aspirations, at the start of their lives, at the start of their loves. Each has her own reasons for volunteering. Not one expects to see actual combat. Not one expects to be on the front lines.

Rio, Frangie, and Rainy will play their parts in the war to defeat evil and save the human race. They will fear and they will rage; they will suffer and they will inflict suffering; they will hate and they will love. They will fight the greatest war the world has ever known.
Jag älskar ju Michael Grants Gone serie, men när jag läste BZRK för någon vecka sedan så var jag långt ifrån imponerad. Men jag hade redan beställt hem Front Lines, och var fast besluten att ge honom ännu en chans. Och det visade sig att jag absolut älskade den här boken, och Grant tar ett stort kliv in på min lista över favoritförfattare.

Handlingen var så fascinerande, och jag älskar omtolkningen av andra världskriget och kvinnor som strider. Första halvan av boken kan kanske te sig aningen långsam för vissa, men jag älskade att lära känna karaktärerna, och jag uppskattar att man får se de gå från normala tjejer till soldater, och all träning där emellan. Andra halvan av boken var dessutom så full av action och spänning att jag blev lite besviken att jag var mitt uppe i en flytt och inte kunde lägga all den tid på boken som den förtjänade. För Front Lines var helt klart alldeles fantastiskt bra.

Jag tyckte dessutom mycket om karaktärerna. Rio är den som får störst plats i boken, och det gillade jag eftersom hon var min klara favorit. Jag längtar så efter att få se vad kriget kommer att göra med henne, och hur långt hennes mod räcker. På andra plats kom Rainy, och jag var särskilt förtjust i hennes intelligens. Även Jenou och Frangie var intressanta att läsa om.

Jag började läsa Front Lines med viss försiktighet, men den överträffade helt klart alla mina förväntningar. Jag längtar oerhört mycket efter nästa bok, och jag rekommenderar den varmt till er som funderar på hur det skulle ha varit med kvinnor som soldater i andra världskriget.