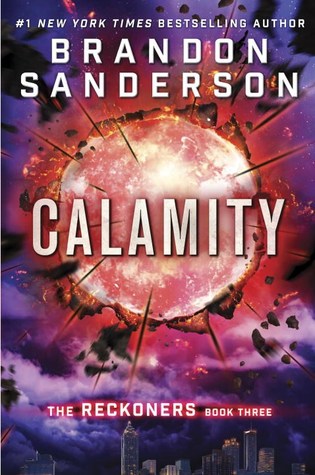 Titel:
Calamity
Författare:
Brandon Sanderson
Serie:
Reckoners #3
Sidor:
417
Spoilervarning! Boken ingår i en serie, spoilers från tidigare böcker förekommer.
When Calamity lit up the sky, the Epics were born. David's fate has been tied to their villainy ever since that historic night. Steelheart killed his father. Firefight stole his heart. And now Regalia has turned his closest ally into a dangerous enemy.

David knew Prof's secret, and kept it even when Prof struggled to control the effects of his Epic powers. But facing Obliteration in Babilar was too much. Once the Reckoners' leader, Prof has now embraced his Epic destiny. He's disappeared into those murky shadows of menace Epics are infamous for the world over, and everyone knows there's no turning back...

But everyone is wrong. Redemption is possible for Epics—Megan proved it. They're not lost. Not completely. And David is just about crazy enough to face down the most powerful High Epic of all to get his friend back. Or die trying.
Med tanke på hur mycket jag älskar superhjältar/skurkar, så är det kanske inte konstigt att Reckoners har kommit att bli en av mina favoritserier. Sanderson kan verkligen det här med onda superskurkar. Väntan på den avslutande boken, Calamity, har varit aningen olidlig, men som tur var så levde boken upp till alla mina förväntningar.
Handlingen var lika spännande och full av action som de tidigare böckerna varit. Redan från början märktes det att insatserna var höga, och det blev knappt en lugn stund. Jag var särskilt förtjust i slutet (även om jag sett flertalet recensioner på GR som klagat på det), och jag gillade själva upplösningen. Det enda jag önskade mig var att epilogen skulle varit något längre, jag hade definitivt, spoilers -->

velat se mer av Davids krafter

, spoilers slut.
Och karaktärerna, som jag tyckte var lite svåra att lära känna i första boken, har växt så mycket i mina ögon. David och Megan var här alldeles enastående, och jag tycker mycket om de flesta av bi-karaktärerna också. Plus, hur rolig var inte Larcener?!
Calamity var, i mina ögon, en väldigt värdig avslutning på en serie jag är säker på kommer att tillhöra mina favoriter i många år framöver. Det hindrar mig dock inte från att vilja ha MER, men det kan mest vara för att jag inte känner mig redo att lämna den här fantastiska världen än. Rekommenderas dock varmt, till absolut alla.