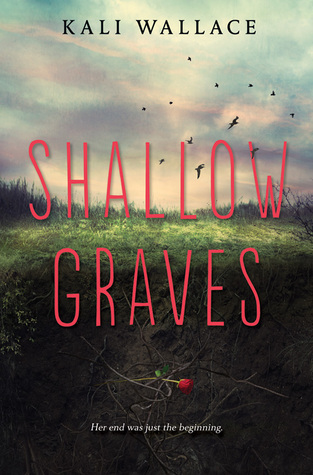 Titel:
Shallow Graves
Författare:
Kali Wallace
Serie:
-
Sidor:
358
Breezy remembers leaving the party: the warm, wet grass under her feet, her cheek still stinging from a slap to her face. But when she wakes up, scared and pulling dirt from her mouth, a year has passed and she can't explain how.

Nor can she explain the man lying at her grave, dead from her touch, or why her heartbeat comes and goes. She doesn't remember who killed her or why. All she knows is that she's somehow conscious—and not only that, she's able to sense who around her is hiding a murderous past.

Haunted by happy memories from her life, Breezy sets out to find answers in the gritty, threatening world to which she now belongs—where killers hide in plain sight, and a sinister cult is hunting for strange creatures like her. What she discovers is at once empowering, redemptive, and dangerous.
Shallow Graves var en av årets mest efterlängtade böcker för min del, och förväntningarna var minst sagt höga. Men redan efter den makalösa inledningen förstod jag att boken skulle vara så bra som jag hoppats på, och jag absolut älskade den.

Handlingen var både spännande och kuslig, och det fanns en del scener som fick mig att rysa av obehag. Det är liksom en långsamt stigande skräck, samtidigt som man funderar över vad som egentligen hänt Breezy, och både monstren och mysteriet var oerhört fängslande. Shallow Graves är dessutom skriven med ett stämningsfullt och vackert språk som redan från början grep tag i mig och höll sig till den allra sista sidan.

Jag älskade Breezy. Hon var sarkastisk och snabbtänkt. Väldigt modig och stark, trots det som hänt henne. Hennes svar på tal fick mig att skratta högt flera gånger, och jag gillar både den bi-sexuella och feministiska aspekten av karaktären. Dessutom tyckte jag bra om både Zeke och Jake, och min favoritdel var nog kanske att det är en bok helt utan romans.

Shallow Graves var förväntad att hamna bland mina favoriter, och efter den här recensionen är det nog ingen tvekan om att den också gjorde det. Kuslig och fängslande, och med en otroligt härlig huvudkaraktär. Jag är mer än nöjd med slutet, men jag kan ändå inte låta bli att tänka att bara en bok till. Ge mig en bok till, snälla?!