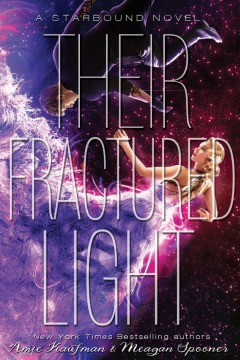 Titel:
Their Fractured Light
Författare:
Amie Kaufman & Meagan Spooner
Serie:
Starbound #3
Sidor:
425
Spoilervarning! Boken ingår i en serie, spoilers från tidigare böcker förekommer.
A year ago, Flynn Cormac and Jubilee Chase made the now infamous Avon Broadcast, calling on the galaxy to witness for their planet, and protect them from destruction. Some say Flynn's a madman, others whisper about conspiracies. Nobody knows the truth. A year before that, Tarver Merendsen and Lilac LaRoux were rescued from a terrible shipwreck—now, they live a public life in front of the cameras, and a secret life away from the world's gaze.

Now, in the center of the universe on the planet of Corinth, all four are about to collide with two new players, who will bring the fight against LaRoux Industries to a head. Gideon Marchant is an eighteen-year-old computer hacker—a whiz kid and an urban warrior. He'll climb, abseil and worm his way past the best security measures to pull off onsite hacks that others don't dare touch.

Sofia Quinn has a killer smile, and by the time you're done noticing it, she's got you offering up your wallet, your car, and anything else she desires. She holds LaRoux Industries responsible for the mysterious death of her father and is out for revenge at any cost.

When a LaRoux Industries security breach interrupts Gideon and Sofia's separate attempts to infiltrate their headquarters, they're forced to work together to escape. Each of them has their own reason for wanting to take down LaRoux Industries, and neither trusts the other. But working together might be the best chance they have to expose the secrets LRI is so desperate to hide.
De senaste dagarna så har jag plöjt mig igenom Starbound trilogin, och jag måste säga att jag är rätt imponerad. Their Fractured Light är dock helt klart min favorit i serien, och jag absolut älskade den.

Handlingen här var näst intill perfekt, och redan från början var jag helt fast i boken. Den är full av spänning, romans och rymdäventyr, och det hela byggs upp till en explosiv final. Precis som med de två föregångarna så anser jag dock att mittendelen blir aningen för långsam, men här var jag så fast för karaktärerna att det inte gjorde mig något. Och när man sedan föser ihop alla karaktärer med varandra, ja då kan det inte bli mycket bättre.

Efter att ha läst den andra boken var jag rätt säker på vem som skulle vara den manliga karaktären, men jag blev glatt överraskad över vem den kvinnliga visade sig vara (vilket helt ärligt får mig att undra om jag är lite trögfattad, eftersom Sofia hade en betydligt större roll i This Shattered World än vad Gideon hade). Jag älskade båda två, men kanske mest Sofia. Jag älskade att man hela tiden var lite osäker på om man kunde lita på dem, och deras förhållande var vansinnigt intressant att läsa om. Dessutom var jag oerhört glad över rollerna som Tarver, Lilac, Flynn och Lee spelade, och jag är så nöjd att liksom alla fick vara med.

Their Fractured Light hade allt jag önskade mig, och jag kunde inte vara mer nöjd. Som en serieavslutning blir det liksom inte så mycket bättre, och jag rekommenderar mer än gärna den här serien.