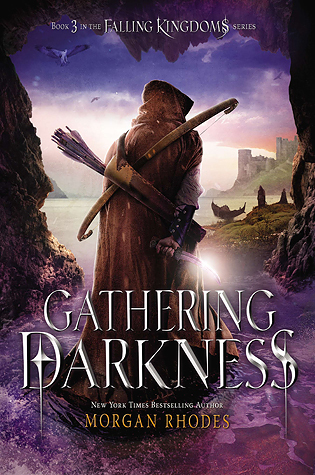 Titel:
Gathering Darkness
Författare:
Morgan Rhodes
Serie:
Falling Kingdoms #3
Sidor:
407
Spoilervarning! Boken ingår i en serie, spoilers från tidigare böcker förekommer.
Prince Magnus has just witnessed torture, death, and miracles during the bloody confrontation that decimated the rebel forces. Now he must choose between family and justice as his father, the cruel King Gaius, sets out to conquer all of Mytica. All Gaius needs now are the Kindred—the four elemental crystals that give godlike powers to their owner. But the King of Blood is not the only one hunting for this ancient, storied magic. . . .

THE KRAESHIANS join the hunt. Ashur and Amara, the royal siblings from the wealthy kingdom across the Silver Sea, charm and manipulate their way to the Kindred, proving to be more ruthless than perhaps even the King of Blood himself.

THE REBELS forge ahead. Princess Cleo and vengeful Jonas lead them, slaying with sweetness, skill, and a secret that can control Lucia's overpowering magic—all so they can use the Kindred to win back their fallen kingdoms.

THE WATCHERS follow Melenia out of the Sanctuary. They ally in the flesh with King Gaius, who vows to use Lucia's powers to unveil the Kindred.
Jag hade inte särskilt höga förväntningar när jag började att läsa den här serien, men Falling Kingdoms är en serie som bara blir bättre och bättre, och det är därför inte konstigt att den tredje boken, Gathering Darkness, är min favorit hittills.
Handlingen är fantastiskt spännande, och jag älskar att serien är så pass rå som den är. Många har kallat den för en ungdomsversion av A Game of Thrones, och även om jag inte gillar att jämföra böcker så kan jag ändå faktiskt hålla med.
Gathering Darkness är full av action, magi, och intriger. Lägg dessutom till att folk dör som flugor och ingen riktigt går säker så är det inte underligt att jag har kommit att älska serien så mycket som jag faktiskt gör.
Jag både älskar och hatar karaktärerna, och Cleo och Magnus är helt klart mina favoriter. De är också mitt OTP och jag absolut älskar deras scener tillsammans. Plus att, markera för spoilers -->

de äntligen erkänner sina känslor..jag var så glad. Och den kyssen dessutom. Nu hoppas jag bara att båda ska överleva, Rhodes har ju annars en förmåga att döda alla kärleksintressen

, spoilers slut.
Lucia är en väldigt fascinerande karaktär, även om hon ofta är lite för naiv för min smak. Det ska dock bli så spännande att se vad hon kommer ta sig till i nästa bok, och jag vill gärna lära känna henne bättre. Och till sist har vi ju Jonas, som jag inte alls tycker om. Jag vet inte riktigt hur han har överlevt så länge, men det är inte på grund av skicklighet. Jag är inte riktigt lika negativt inställd till honom som jag var i de första två böckerna dock, men jag skulle definitivt inte sörja om han dog.
Slutet var sjukligt spännande och jag gillar inte alls cliffhangern som boken lämnade oss med. Jag kan inte förstå att jag måste vänta nästan ett år på nästa del. Gathering Darkness är en fenomenal fortsättning på en fantasyserie som snabbt blivit en av mina favoriter. Rekommenderas varmt.