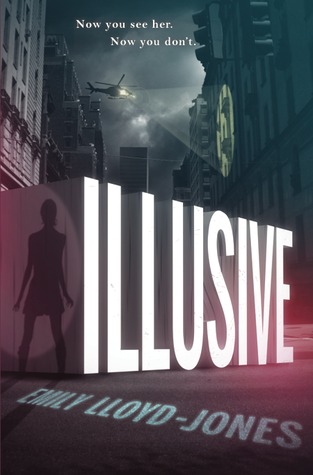 Titel:
Illusive
Författare:
Emily Lloyd-Jones
Serie:
Illusive #1
Sidor:
406
The X-Men meets Ocean's Eleven in this edge-of-your-seat sci-fi adventure about a band of "super" criminals.

When the MK virus swept across the planet, a vaccine was created to stop the epidemic, but it came with some unexpected side effects. A small percentage of the population developed superhero-like powers. Seventeen-year-old Ciere Giba has the handy ability to change her appearance at will. She's what's known as an illusionist...She's also a thief.

After a robbery goes awry, Ciere must team up with a group of fellow super-powered criminals on another job that most would consider too reckless. The formula for the vaccine that gave them their abilities was supposedly destroyed years ago. But what if it wasn't?

The lines between good and bad, us and them, and freedom and entrapment are blurred as Ciere and the rest of her crew become embroiled in a deadly race against the government that could cost them their lives.
Efter att ha blivit alldeles förälskad i V.E. Schwabs Vicious så ville jag läsa fler böcker med superkrafter/hjältar/skurkar i, och Illusive har jag dessutom varit intresserad av länge. Det var en av de första av mina julklappsböcker som jag plockade upp, och självklart så absolut älskade jag den.
Det är möjligt att min kärlek till den här boken skulle vara något mindre om det inte vore för att den är precis det jag letade efter just nu, men det struntar jag i. Redan från den första sidan så föll jag pladask för handlingen och karaktärerna, och jag älskade varenda sida. Illusive är oerhört spännande med sin kriminalitet och superkrafter, och jag tycker helt klart att "The X-Men meets Ocean's Eleven" stämmer alldeles perfekt in på boken. Handlingen var full av action, och både spännande och intelligent. Slutet var dessutom helt enastående, och jag längtar redan efter nästa bok.
Ciere var en riktigt intressant karaktär, och jag tyckte så mycket om henne. Jag gillade hennes utveckling, och fann henne både smart och modig. I övrigt så älskade jag de flesta karaktärerna, både tillsammans och var för sig, och relationerna mellan Ciere, Devon, Kit och Magnus var både äkta och roande att läsa om. Jag gillade dessutom både Daniel och Alan, och ser fram emot att lära känna bägge bättre i nästa bok.
Även om jag trodde att jag skulle gilla Illusive, så hade jag inte räknat med att älska den så här mycket. En helt fenomenal bok som helt klart får en plats bland mina favoriter, och jag kan knappt vänta på fortsättningen som kommer nu i Juli. Rekommenderas varmt!
Favoritcitat:
"She's a lunatic," says Conrad.
"Absolutely insane," says Guntram.
"Either completely fearless or utterly stupid," says Conrad.
"She's going to fit right in," says Guntram."