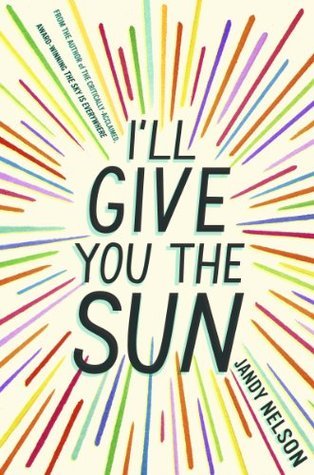 Titel:
I'll Give You the Sun
Författare:
Jandy Nelson
Serie:
-
Sidor:
371
Jude and her twin brother, Noah, are incredibly close. At thirteen, isolated Noah draws constantly and is falling in love with the charismatic boy next door, while daredevil Jude cliff-dives and wears red-red lipstick and does the talking for both of them. But three years later, Jude and Noah are barely speaking. Something has happened to wreck the twins in different and dramatic ways . . . until Jude meets a cocky, broken, beautiful boy, as well as someone else—an even more unpredictable new force in her life. The early years are Noah's story to tell. The later years are Jude's. What the twins don't realize is that they each have only half the story, and if they could just find their way back to one another, they'd have a chance to remake their world.
Det här är min första bok av Jandy Nelson, och mina förväntningar var riktigt höga innan jag började läsa. Jag vet att jag gillade den här boken, men jag har inte riktigt bestämt mig för hur mycket och så jag hoppas att det ska bli klart innan den här recensionen är över.
Handlingen var oerhört fin, samtidigt som den gjorde mig både arg och krossade mitt hjärta en aning. Något som störde mig väldigt var dock hur pass långa kapitlena var, och eftersom de alterneras mellan Jude och Noahs perspektiv så var det väldigt svårt att ställa om till rätt person. När jag läste Judes kapitel så var jag ofta lite på hennes sida, och när jag sen, 97 sidor senare, ska ställa om till Noah som jag just då är aningen irriterad på, ja då blev det lite problematiskt för mig. De på tok för långa kapitlena förstörde läsupplevelsen en aning för mig, och det ger tyvärr boken ett stort minus. I övrigt så var dock språket alldeles fantastiskt och jag absolut älskade det.
Karaktärerna var både väldigt levande och väldigt trasiga, och de gjorde mig ofta arg på hur de behandlade varandra. Jude och Noah gör så mycket elaka saker mot varandra, och jag har lite svårt att komma över det. Jag förstår att båda är väldigt unga och avundsjuka på varandra, men jag skulle aldrig i hela mitt liv kunna behandla mina systrar på det sättet. Det krossar mitt hjärta en aning, och det gjorde dessutom att jag hade lite svårt för båda två. Men både Jude och Noah har även sina ljusa sidor, och det är ändå lätt att ryckas med i det perspektiv man är i. Dessutom är det alldeles omöjligt att inte önska att allt ska lösa sig för tvillingarna, och att de ska hitta tillbaka till varandra igen.
I övrigt så gillade jag de flesta av sidokaraktärerna också, allra helst Oscar och Guillermo.
I'll Give You the Sun är en bok som fick mig att både skratta och gråta, och dess språk är makalöst vackert. Men de långa kapitlena drar ner på betyget, och efter en lång betänketid så beslutar jag mig för 8/10. En riktigt bra bok som jag mer än gärna rekommenderar, men samtidigt så fattas det där lilla extra för att jag ska älska den.
Favoritcitat:
"Meeting your soul mate is like walking into a house you've been in before - you will recognize the furniture, the pictures on the wall,the books on the shelves, the contents of drawers: You could find your way around in the dark if you had to."