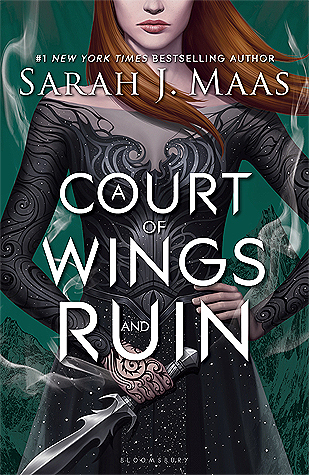 Titel:
A Court of Wings and Ruin
Författare:
Sarah J. Maas
Serie:
A Court of Thorns and Roses #3
Sidor:
699
Spoilervarning! Boken ingår i en serie, spoilers från tidigare böcker förekommer.
Feyre has returned to the Spring Court, determined to gather information on Tamlin's maneuverings and the invading king threatening to bring Prythian to its knees. But to do so she must play a deadly game of deceit—and one slip may spell doom not only for Feyre, but for her world as well. As war bears down upon them all, Feyre must decide who to trust amongst the dazzling and lethal High Lords—and hunt for allies in unexpected places.
Efter den alldeles fantastiska ACOMAF så var givetvis ACOWAR min mest efterlängtade bok för i år. I en tid av privat turbulens så dröjde det dock lite längre för mig att läsa den än vad jag hade hoppas på, men givetvis var den en alldeles makalös bok.

Det är så mycket som händer här. Älskade början då Feyre försökte förstöra för Tamlin, även om jag också tyckte att den var lite långdragen då jag ville se henne tillsammans med Rhys och gänget igen. Hela boken är dock en berg och dalbana i form av känslor och jag både skrattade och grät. Slutet var fantastiskt, även om det nästan dödade mig, och jag är helt enkelt bara alldeles mållös.

Älskar att det kommer tre böcker till, för visst finns det nu några lösa trådar jag funderar väldigt mycket på. Men samtidigt tycker jag att boken gav Feyre och Rhys ett väldigt bra avslut, och jag är mer än nöjd.

ACOWAR kommer med all största förmodan att vara den bästa bok jag läser i år, och jag absolut älskade den. Rekommenderas varmt.