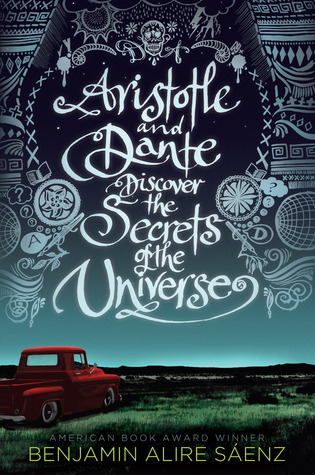 Titel:
Aristotle and Dante Discover the Secrets of the Universe
Författare:
Benjamin Alire Sáenz
Serie:
-
Sidor:
359
Aristotle is an angry teen with a brother in prison. Dante is a know-it-all who has an unusual way of looking at the world. When the two meet at the swimming pool, they seem to have nothing in common. But as the loners start spending time together, they discover that they share a special friendship—the kind that changes lives and lasts a lifetime. And it is through this friendship that Ari and Dante will learn the most important truths about themselves and the kind of people they want to be.
Aristotle and Dante Discover the Secrets of the Universe
har fått sjukt bra kritik, och självklart har det gjort mig väldigt nyfiken på den. Men trots att jag tyckte väldigt mycket om den, så ser jag inte riktigt den där magin som alla andra verkar se.
Det är inte så jättemycket handling egentligen, utan det är en väldigt karaktärsdriven historia. Man får, genom Aristotles perspektiv, följa med Ari och Dante när de lär känna både varandra och sig själva, och det är en väldigt vacker historia om vänskap och kärlek. Vacker är för övrigt kanske det bästa ordet att beskriva den här boken med, och jag både skrattade och grät under läsningens gång.
Ari var en väldigt intressant karaktär, och jag gillade hur vilsen och ensam han var. Men samtidigt var han lite svår att ha och göra med, och ibland irriterade jag mig på honom. Dante däremot var alldeles fantastisk, och åh, så härlig. Han var helt klart min favorit i boken, och jag beundrade honom väldigt.
Jag gillade dessutom båda pojkarnas familjer mycket, och allra helst i slutet var föräldrarna så himla underbara.
Språket var enastående fint, och väldigt träffsäkert. Jag älskade språket, jag älskade karaktärerna, jag älskade slutet av boken...men jag älskade inte själva boken. Jag tycker väldigt mycket om den, men den blev inte en sån stor favorit som jag förväntat mig (samma sak hände för övrigt när jag läste både The Perks of Being a Wallflower, och Eleanor & Park..jag vet liksom inte vad det är jag verkar missa hos böckerna, men något är det). Det är däremot en bok jag rekommenderar till absolut alla, och den var bara så oerhört fin.
Favoritcitat:
"Words were different when they lived inside of you."
"Another secret of the universe: Sometimes pain was like a storm that came out of nowhere. The clearest summer could end in a downpour. Could end in lightning and thunder."