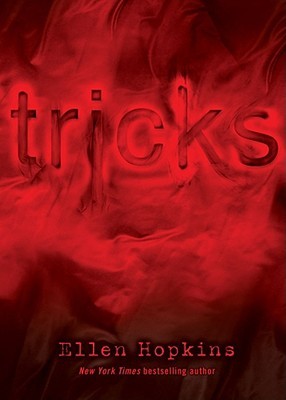 Titel:
Tricks
Författare:
Ellen Hopkins
Serie:
Tricks #1
Sidor:
625
Five teenagers from different parts of the country. Three girls. Two guys. Four straight. One gay. Some rich. Some poor. Some from great families. Some with no one at all. All living their lives as best they can, but all searching...for freedom, safety, community, family, love. What they don't expect, though, is all that can happen when those powerful little words "I love you" are said for all the wrong reasons.

Five moving stories remain separate at first, then interweave to tell a larger, powerful story -- a story about making choices, taking leaps of faith, falling down, and growing up. A story about kids figuring out what sex and love are all about, at all costs, while asking themselves, "Can I ever feel okay about myself?"
Tricks är både min första bok av Ellen Hopkins, och min första bok på vers. Ärligt talat skulle jag nog aldrig ha beställt hem den om den inte vore för Boktyckes Läsutmaning, men trots det så gillade jag den betydligt mer än vad jag först förväntat mig.
Det känns inte riktigt som att summeringen stämmer in på handlingen, även om den delvis handlar om vad som sägs. Men till största del är det en berättelse om tonårsprostitution, och det är en berättlese som verkligen grep tag i mig. Tricks var både oerhört obehaglig, och samtidigt väldigt rörande. Jag imponeras dessutom av att så lite text kan förmedla så väldigt många känslor, även om den största jag faktiskt har, nu när boken är slut, är att jag vill ta en dusch. Tricks är inte en lätt bok att läsa, och det är inte heller en bok man läser för nöjes skull. Men den har ett viktigt budskap, och jag är glad över att ha läst den.
Vissa av karaktärerna kanske verkade ha det ganska bra från början, men under ytan är alla väldigt trasiga, och dem blir bara värre och värre ju längre in i boken man kommer. Och även om ingen av dem var särkilt lätt att tycka om framåt slutet, så tyckte jag ändå väldigt synd om dem. Mina favoriter var Eden och Seth. Jag tyckte om Ginger för det mesta, gillade Whitney mest i början, och hade allra svårast för Cody. Men alla karaktärerna berörde mig, och mitt hjärta blöder fortfarande för dem.
Tricks var en positiv överraskning, och en väldigt gripande bok. Jag vet inte hur pass intresserad jag är av att läsa mer på vers, men jag kommer helt klart att läsa uppföljaren när den kommer ut nästa år. Rekommenderas, även om det är en jobbig läsning (eller kanske just därför).