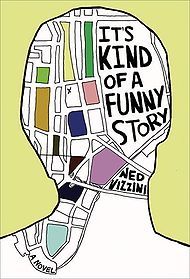 Titel:
It's Kind of a Funny Story
Författare:
Ned Vizzini
Serie:
-
Sidor:
444
Ambitious New York City teenager Craig Gilner is determined to succeed at life - which means getting into the right high school to get into the right job. But once Craig aces his way into Manhattan's Executive Pre-Professional High School, the pressure becomes unbearable. He stops eating and sleeping until, one night, he nearly kills himself.

Craig's suicidal episode gets him checked into a mental hospital, where his new neighbors include a transsexual sex addict, a girl who has scarred her own face with scissors, and the self-elected President Armelio. There, Craig is finally able to confront the sources of his anxiety.
Anledningen till att jag i överhuvudtaget blev intresserad av It's Kind of a Funny Story var att jag såg att Emma Roberts har en roll i filmversionen. Och när jag sedan kollade upp vad boken handlade om, så förstod jag att den var ett måste för mig att läsa, och självklart tyckte jag väldigt mycket om den.
Jag har själv varit deprimerad sedan mina tidiga tonår, och allt som har med det mänskliga psyket och dess sjukdomar intresserar mig. It's Kind of a Funny Story har en väldigt gripande handling med 15 åriga Craig som är suicidal och checkar in sig själv på sjukhusets psykavdelning. Men på grund av ombyggnader så hamnar han på vuxenavdelningen, och där lär han känna en hel del fängslande individer. Att författaren själv spenderat tid på en avdelning märks, och beskrivningarna är väldigt träffande. Jag tycker dessutom om att Vizzini kan ta ett så pass seriöst ämne och göra det humoristiskt, utan att förringa, eller ta bort allvaret. Det påminner mig lite om hur John Green behandlade ämnet cancer i The Fault in Our Stars, och jag gillar det.
Karaktärerna är alla väldigt fascinerande, och jag gillar de flesta. Craig är kanske den enda man faktiskt får lära känna ordentligt, men jag tycker att han är riktigt charmig, även om det samtidigt skrämmer mig lite att jag kunde känna igen så mycket av mitt yngre själv hos honom. I övrigt så tyckte jag väldigt mycket om resten av dem på avdelningen, och allra helst Noelle var extra fängslande, och jag önskar att man fått veta ännu mer om henne.

It's Kind of a Funny Story var en riktigt bra bok, och en ganska igenkännande läsning. Slutet lämnas så himla hoppfullt, och även om det inte är en självbiografisk bok, så är det ändå extra sorgligt att tänka på att Ned Vizzini faktiskt begick självmord i December förra året. Jag tror att It's Kind of a Funny Story kan vara en väldigt viktig bok för både ungdomar och vuxna att läsa, och jag rekommenderar den mer än gärna.
Favoritcitat:
"I didn't want to wake up. I was having a much better time asleep. And that's really sad. It was almost like a reverse nightmare, like when you wake up from a nightmare you're so relieved. I woke up into a nightmare."
"I wanted to tell people, "My depression is acting up today" as an excuse for not seeing them, but I never managed to pull it off."