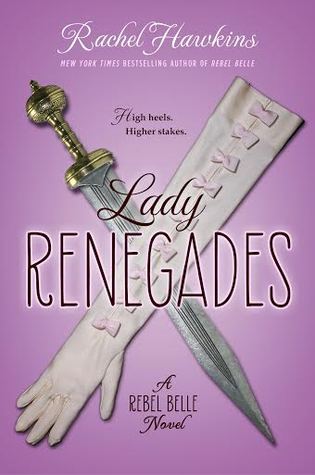 Titel:
Lady Renegades
Författare:
Rachel Hawkins
Serie:
Rebel Belle #3
Sidor:
264
Spoilervarning! Boken ingår i en serie, spoilers från tidigare böcker förekommer.
Just as Harper Price starts coming to terms with her role as David Stark's battle-ready Paladin, protector, and girlfriend—her world goes crazy all over again.

Overwhelmed by his Oracle powers, David flees Pine Grove and starts turning teenage girls into Paladins—and these young ladies seem to think that Harper is the enemy David needs protecting from. Ordinarily, Harper would be able to fight off any Paladin who comes her way, but her powers have been dwindling since David left town…which means her life is on the line yet again.
Jag älskar Rachel Hawkins Hex Hall serie, och även den nya Rebel Belle serien har kommit att bli lite av en favorit hos mig. Efter det otroligt spännande slutet i bok två, så har jag räknat ner dagarna till den här avslutande bokens release, och jag kan glatt säga att jag tyckte väldigt mycket om den.
Början kändes aningen långsam, och i överhuvudtaget så tycker jag inte att den här boken var lika actionpackad som föregångarna varit. Men det gör inte så mycket, för Harpers berättarröst är vansinnigt charmig, och jag är väldigt förtjust i själva världen. Jag gillar särskilt sydstatskänslan, magin och själva questen i denna bok. Humorn är också på topp, även om bokens stämning är aningen mörk. Det enda som känns lite sådär var slutet. Det gick på tok för fort fram och det gjorde att jag inte reagerade lika starkt som jag kunnat gjort. Dessutom hade jag gärna velat se lite, lite mer av hur framtiden skulle se ut för karaktärerna. Intressant är dock att -->

de flesta förlorade sina krafter och gick tillbaka till att vara "bara" vanliga människor. Oftast brukar det ju vara tvärtemot istället

, spoiler slut.
Av karaktärerna så tycker jag mycket om i princip alla. Harper är min favorit, och jag älskar hennes charm och sarkasm. Tyckte även mycket om både Bee och Blythe, och jag gillar särskilt att det är tjejerna som räddar världen!
Lady Renegades var en mycket bra avslutning på den här serien. Visst var slutet aningen förhastat, men det innehöll ändå det jag önskade mig. Så en rolig och spännande läsupplevelse, och en serie jag gärna rekommenderar.