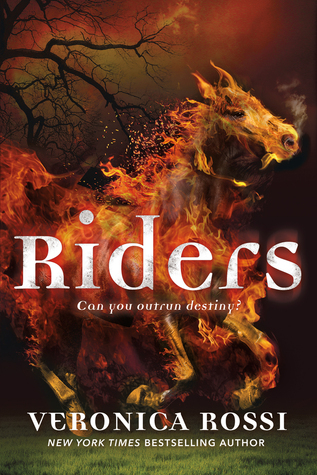 Titel:
Riders
Författare:
Veronica Rossi
Serie:
Riders #1
Sidor:
362
Nothing but death can keep eighteen-year-old Gideon Blake from achieving his goal of becoming a U.S. Army Ranger. As it turns out, it does.

While recovering from the accident that most definitely killed him, Gideon finds himself with strange new powers and a bizarre cuff he can't remove. His death has brought to life his real destiny. He has become War, one of the legendary four horsemen of the apocalypse.

Over the coming weeks, he and the other horsemen—Conquest, Famine, and Death—are brought together by a beautiful but frustratingly secretive girl to help save humanity from an ancient evil on the emergence.
* jag anser att resten av summeringen spoilar lite för mycket, men för den som vill se så finns hela här.
Jag har inte hört så där jättemycket om Riders efter dess release, men eftersom jag älskar Veronica Rossis Under the Never Sky trilogi, så var jag givetvis intresserad av att läsa denna med. Jag var lite osäker när jag väl påbörjade den, men fann att det var en bok jag gillade väldigt mycket.

Av de få recensioner jag sett så har jag förstått att många haft problem hur boken är berättad, men jag gillade det verkligen. Gideon är drogad med något som liknar ett sanningsserum och berättar historien i efterhand. Redan i första kapitlet var jag fast, och jag fann läsupplevelsen att vara en mycket bra sådan. Handlingen är spännande, och jag fascineras särskilt av att karaktärerna är förkroppsligade versioner av apokalypsens fyra ryttare. Huvudkaraktären är War(Krig), och här måste man kämpa mot demoner, samt lära sig att samarbeta och att använda sina krafter. Mitt favoritmoment var dock hästarna, och det var bara så läckert. Mycket action, mycket spänning, och ett sanslöst spännande slut som gör att jag redan har börjat räkna ner dagarna till nästa boks release.

Av karaktärerna så gillade jag Gideon. Hans humör var lite si och så, men samtidigt så var ju ilskan en del av den han var. Jag tyckte dessutom att han var både smart och modig. Jag tyckte även mycket om Bastian, Jode och Marcus, men var lite mer tveksam när det kom till Daryn. Hon var väl helt okej, men jag fick inget riktigt grepp om henne. Gillade inte alla hemligheter, eller anledningen till att hon ansåg att hon och Gideon inte kunde vara tillsammans. Ska bli intressant att se vad jag tycker om henne i nästa bok. Allra helst eftersom den berättas från hennes perspektiv.

Riders var lite av en överraskning, och jag trodde faktiskt inte att jag skulle tycka lika mycket om den som jag gjorde. Men sjukt spännande, och berättad på ett väldigt intressant vis, gjorde den till en vinnare i mina ögon. Rekommenderas gärna.