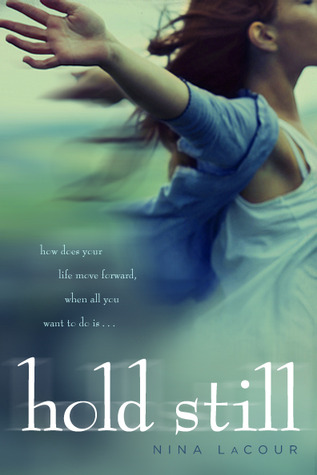 Titel:
Hold Still
Författare:
Nina LaCour
Serie:
-
Sidor:
231
That night Ingrid told Caitlin,
I'll go wherever you go
. But by dawn, Ingrid was dead and Caitlin was alone. Suddenly Caitlin has to deal with a completely unfamiliar life—a life without the art, the laughter, the music, and the joy she shared with her best friend. When she finds the journal Ingrid left behind, Caitlin gets a chance to learn about another side of her friend; and the journal becomes her guide as she deals with forging new friendships, finding a first love, and learning to live without the one person who knew her best.
Jag läste nyligen Everything Leads to You av Nina LaCour, och absolut älskade den. Jag kände genast att jag ville läsa mer av henne, och beställde därför hem hennes Hold Still. Och även om den inte riktigt höll samma klass som Everything Leads to You, så var det fortfarande en bok jag tyckte väldigt mycket om.
Handlingen är väldigt sorglig och Hold Still rörde upp en massa känslor för mig. Den handlar om Caitlin, vars bästa kompis Ingrid precis har tagit livet av sig, och hur hon hanterar livet efter det. Jag riktigt led med Caitlin, allra helst i början, och det här var en svår bok för mig att läsa. Den hanterar dock sorgen och saknaden på ett oerhört trovärdigt vis, och det hela känns väldigt äkta. Samtidigt så finns det en gnutta av hopp som bara blir större och större, och Hold Still är en väldigt fin bok med ett bra budskap.
Jag tyckte mycket om alla karaktärerna, och allra helst Caitlin
och den utveckling hon gick igenom under bokens gång. Bi-karaktärerna var även dem intressanta, och mina favoriter var Dylan och Maddy. Jag gillade dessutom Caitlins föräldrar, och det man fick veta om Ingrid.
Hold Still var en väldigt fin bok. Den var både sorglig och hoppfull på samma gång, och jag tyckte så mycket om den. Jag kommer definitivt att läsa mer av Nina LaCour i framtiden, och Hold Still är en bok jag gärna rekommenderar.
Favoritcitat:
"The sun stopped shining for me is all. The whole story is: I am sad. I am sad all the time and the sadness is so heavy that I can't get away from it. Not ever."