Titel:
The Girl Who Was Supposed to Die
Författare:
April Henry
Serie:
-
Sidor:
208
"Take her out back and finish her off."

She doesn't know who she is. She doesn't know where she is, or why. All she knows when she comes to in a ransacked cabin is that there are two men arguing over whether or not to kill her.

And that she must run.
The Girl Who Was Supposed to Die
var något av ett impulsköp, men när jag hade läst på baksidan så visste jag att jag bara måste läsa den. Och tur var väl det, för det här var en bok jag gillade riktigt mycket just för stunden.
Jag vill inte säga så mycket om handlingen, mer än att den var fruktansvärt spännande och full av action. Kanske aningen otrovärdig, och eftersom den var så pass kort hann karaktärerna aldrig få något djup. Och även om jag gillade både Cady & Ty så känns det inte som att jag känner dem. Boken var istället väldigt handlingsdriven, och påminner mig om en snabb och spännande actionfilm. Och även om den är långt ifrån den bästa bok jag läst, så var
The Girl Who Was Supposed to Die
ett stort nöje för stunden, och jag rekommenderar den gärna om ni vill ha något spännande och snabbläst.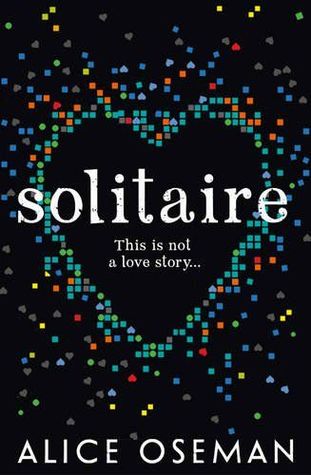 Titel:
Solitaire
Författare:
Alice Oseman
Serie:
-
Sidor:
392
In case you're wondering, this is not a love story.

My name is Tori Spring. I like to sleep and I like to blog. Last year – before all that stuff with Charlie and before I had to face the harsh realities of A-Levels and university applications and the fact that one day I really will have to start talking to people – I had friends. Things were very different, I guess, but that's all over now.

Now there's Solitaire. And Michael Holden.

I don't know what Solitaire are trying to do, and I don't care about Michael Holden.
I really don't.
Det här är en bok som har fått väldigt bra kritik, och självklart gjorde det mig nyfiken. Solitaire är en contemporary bok med en liten mysterietwist, och handlingen var för det mesta väldigt bra. Den blev lite för utdragen mot slutet, och jag listade ganska snabbt ut vissa delar av mysteriet med Solitaire, men i det stora hela så var det en bok jag gillade.
Det bästa med Solitaire måste dock vara Tori, och jag absolut älskade hennes sarkasm och cynism. Även Michael var en väldigt charmig karaktär, och jag gillade både Charlie och Nick också.
Slutet var helt okej, och i mina ögon var Solitaire en väldigt bra bok. Rekommenderas
.