Titel:
Grasshopper Jungle
Författare:
Andrew Smith
Serie:
-
Sidor:
394
In the small town of Ealing, Iowa, Austin and his best friend Robby have accidentally unleashed an unstoppable army. An army of horny, hungry, six-foot-tall praying mantises that only want to do two things. This is the truth. This is history. It's the end of the world. And nobody knows anything about it.

Funny, intense, complex and brave, Grasshopper Jungle is a groundbreaking, genre-bending, coming-of-age stunner.
Alltså, den här boken var så konstig att jag vet inte ens hur jag ska kunna börja att recensera den. Jag förstår faktiskt inte ens varför jag gillade den, men det gjorde jag.
Grasshopper Jungle är en bok om den sexuellt förvirrade Austin, som är kär i både sin flickvän och sin bästa kompis, det är en bok om historia, om blod, om sperma, och om världens undergång i form av asstora, kåta, hungriga, bönsyrsor (tänk er det där avsnittet i säsong 1 av Buffy, Teacher's Pet). Det är superkonstigt, men samtidigt väldigt bra, och boken fick mig att skratta högt flera gånger.
Jag vet liksom inte vad mer jag har att säga. Grasshopper Jungle är som sagt väldigt konstig, och väldigt bra. Läs på egen risk.
Favoritcitat:
"Stupid people should never read books."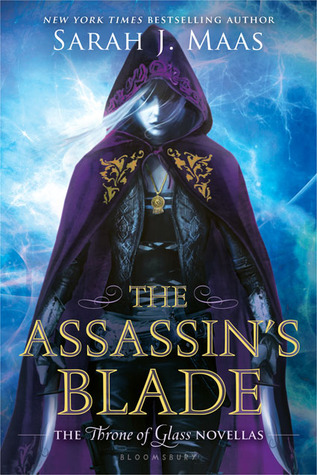 Titel:
The Assassin's Blade
Författare:
Sarah J. Maas
Serie:
Throne of Glass #0.1 - 0.5
Sidor:
435
Celaena Sardothien is Adarlan's most feared assassin. As part of the Assassin's Guild, her allegiance is to her master, Arobynn Hamel, yet Celaena listens to no one and trusts only her fellow killer-for-hire, Sam. In these action-packed novellas - together in one edition for the first time - Celaena embarks on five daring missions. They take her from remote islands to hostile deserts, where she fights to liberate slaves and seeks to avenge the tyrannous. But she is acting against Arobynn's orders and could suffer an unimaginable punishment for such treachery. Will Celaena ever be truly free?
Att Throne of Glass är en av mina absoluta favoritserier är väl ingen nyhet direkt, och jag har länge velat läsa de 5 novellerna som utspelar sig innan handlingen i första boken. Jag har dock väntat tills nu, strax innan realasen av tredje boken (läs 1/9-14), men The Assassin's Blade var precis lika bra som jag förväntat mig, och jag älskade att läsa om Celaenas liv pre Endovier och Throne of Glass.
Alla novellerna var väldigt bra, och jag gillade att få veta mer om Celaenas liv. Allra helst delarna med Sam var så fina och sorgliga, men det var samtidigt kul att äntligen få veta allt som hände. Mina favoritnoveller var The Assassin and the Pirate Lord och The Assassin and the Empire. Den novell jag gillade minst var The Assassin and the Healer, den var långt ifrån dålig, men det hände inte särskilt mycket i den. I det stora hela så var The Assassin's Blade ett fantastiskt tillskott till serien, och jag rekommenderar den mer än gärna.
Favoritcitat:
"She was fire, she was darkness, she was dust and blood and shadow."
"There was no way in hell she was going to move to the southern continent without all of her books."
"She would tuck Sam into her heart, a bright light for her to take out whenever things were darkest."
9 / 10