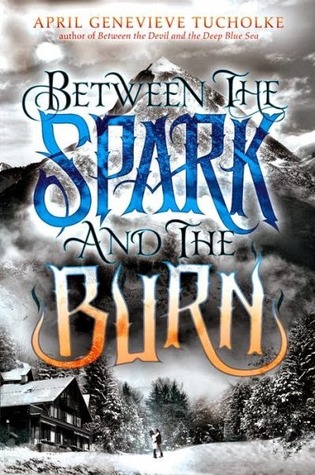 Titel:
Between the Spark and the Burn
Författare:
April Genevieve Tucholke
Serie:
Between #2
Sidor:
320
Spoilervarning! Boken ingår i en serie, spoilers från tidigare böcker förekommer.
Freddie once told me that the Devil created all the fear in the world.
But then, the Devil once told me that it's easier to forgive someone for scaring you than for making you cry.
The problem with River West Redding was that he'd done both to me.

The crooked-smiling liar River West Redding, who drove into Violet's life one summer day and shook her world to pieces, is gone. Violet and Neely, River's other brother, are left to worry—until they catch a two a.m. radio program about strange events in a distant mountain town. They take off in search of River but are always a step behind, finding instead frenzied towns, witch hunts, and a wind-whipped island with the thrum of something strange and dangerous just under the surface. It isn't long before Violet begins to wonder if Neely, the one Redding brother she thought trustworthy, has been hiding a secret of his own...
När jag läste första boken i den här serien, Between the Devil and the Deep Blue Sea, för lite mer än ett år sedan, så var jag aningen tveksam till den, även om betyget till sist landade på 7/10. Jag var måttligt intresserad av fortsättningen, men inte förrän nu blev jag tillräckligt taggad för att beställa hem den. Och när jag dessutom läste om första boken och absolut älskade den, ja då var förväntningarna på
Between the Spark and the Burn väldigt höga. Men som tur var levde den upp till dessa, och den här duologin är numera en av mina absoluta favoriter.
Alltså jag förstår varför jag hade problem med första boken när jag läste den för första gången, och relationen mellan Violet och River skrämmer mig fortfarande. Men när jag var medveten om den, så kunde jag koppla bort det, och hittade så mycket mer jag älskar med serien. Handlingen här har en hel del creepy moments, samtidigt som den är både spännande, tragisk, och romantisk. Det är liksom en speciell stämning över böckerna och jag kan inte låta bli att älska. Språket är dessutom oerhört vackert och atmosfäriskt, och i mina ögon är boken faktiskt värd att läsa bara för språkets skull.
Karaktärerna är kanske inte alltid de mest älskvärda, men jag gillar faktiskt de flesta. Violet är väldigt charmig, och har tappat mycket av den naivitet jag störde mig på i första boken. Neely är dock min favorit, och även om det är svårt att veta var man har honom ibland, så gillar jag honom så mycket. River tar ett steg tillbaka här, och är en av de få jag faktiskt inte tycker särskilt mycket om. I övrigt så gillar jag Jack, Luke(!), Sunshine, och Finch.
Slutet av serien lämnas aningen öppet, men faktiskt inte så att det stör mig (för ovanlighetens skull). Det är ett ganska så perfekt slut för just den här serien, och jag har bara en synpunkt, markera för spoilers -->
Så, jag tycker det är ganska klart att Violet väljer Neely, och jag älskar det. Han är så mycket bättre för henne. Men vad jag undrar mest över är vad Violet tänker göra med River? De bor ju fortfarande ihop, sover ihop, men är inte ihop? Vad kommer att hända när Neely kommer tillbaka? Lite som är oklart, men jag är samtidigt nöjd med hur jag tänker mig att det kommer att bli
, spoilers slut.
Between the Spark and the Burn är kanske inte en bok som passar alla, men det är definitivt en bok för mig, och April Genevieve Tucholke har hamnat i toppen på min auto-buy lista. En helt fantastisk serie, och som jag gärna rekommenderar.
Favoritcitat:
"Your life is not your own, Vi,' she said. 'Don't you know that? It belongs to the people who love you. So you need to take better care of it."
"And then I noticed the birds. Black-feathered corpses. Everywhere. Piled up on steps, kicked into snow piles, dangling by their necks from lampposts and signs. There were eight nailed to the door of the dark, abandoned-looking Youngman's Inn, and five hanging by their feet from the iron church gate.
The four of us walked down the center of the road. Still and silent. I saw lights in windows, but there was no one in the street. Not a soul."