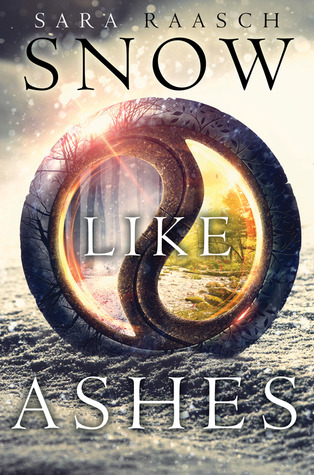 Titel:
Snow Like Ashes
Författare:
Sara Raasch
Serie:
Snow Like Ashes #1
Sidor:
416
A heartbroken girl. A fierce warrior. A hero in the making.

Sixteen years ago the Kingdom of Winter was conquered and its citizens enslaved, leaving them without magic or a monarch. Now, the Winterians' only hope for freedom is the eight survivors who managed to escape, and who have been waiting for the opportunity to steal back Winter's magic and rebuild the kingdom ever since.

Orphaned as an infant during Winter's defeat, Meira has lived her whole life as a refugee, raised by the Winterians' general, Sir. Training to be a warrior—and desperately in love with her best friend, and future king, Mather — she would do anything to help her kingdom rise to power again.

So when scouts discover the location of the ancient locket that can restore Winter's magic, Meira decides to go after it herself. Finally, she's scaling towers, fighting enemy soldiers, and serving her kingdom just as she's always dreamed she would. But the mission doesn't go as planned, and Meira soon finds herself thrust into a world of evil magic and dangerous politics – and ultimately comes to realize that her destiny is not, never has been, her own.
Snow Like Ashes har funnits på min att läsa lista länge, och jag hade så sett fram emot dess release. Men trots det så var mina förväntningar ganska låga (efter att ha blivit så besviken på min andra stora fantasy förhoppning, Lark Rising), och de första 100 sidorna och jag kom inte riktigt överrens (även om de hade sina stunder). Jag var övertygad att det skulle bli ännu en besvikelse, men helt plötsligt så vände det, och istället blev Snow Like Ashes en bok som jag absolut älskade.

Som sagt så gillade jag inte de första 100 sidorna särskilt mycket. Det var bara en positiv sak med dem (när Meira, markera för spoilers -->

hämtade tillbaka den ena delen av medaljongen

, spoilers slut), och annars kändes boken för det mesta bara seg och tråkig. Men efter att man anlänt i Cordell blev det som en helt annan bok, och jag var så investerad i handlingen. Det var spänning, action, magi, romans, och en hel del oväntade vändningar, och det var nästan omöjligt att sluta läsa. Jag skrattade, jag grät, och jag blev helt förälskad i boken. Så ett tips om ni är som jag och inte gillar början, fortsätt ändå att läsa för den blir verkligen så mycket bättre.

Karaktärerna var lite sisådär, allra helst i början, och det tog ett bra tag innan jag började tycka om Meira. Men hon är fantastiskt modig, och stark, och ju mer jag lärde känna henne, desto mer gillade jag henne. Min favorit var dock, självklart, Theron, och jag älskade honom från första början. I övrigt så föll jag aldrig för Mather, och jag tyckte att Sir kändes aningen orättvis och oberäknelig. Jag var även besviken när den först visade sig vara innehålla en kärlekstriangel, men ärligt talat tyckte jag inte att den tog upp särskilt mycket plats, och det kändes som att Meira kom i underfund med sina känslor ganska så snabbt.

Snow Like Ashes började dåligt, men tog verkligen igen det sen. Med en spännande handling, full av twister, älskvärda karaktärer, och ett fenomenalt slut, så blev den en ny favorit hos mig, och jag rekommenderar den mer än gärna.