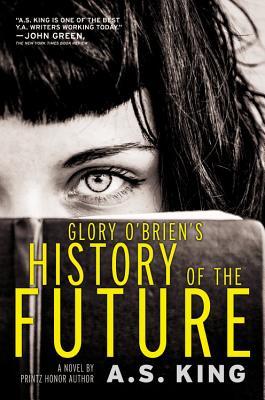 Titel:
Glory O'Brien's History of the Future
Författare:
A.S. King
Serie:
-
Sidor:
307
In this masterpiece about freedom, feminism, and destiny, Printz Honor author A.S. King tells the epic story of a girl coping with devastating loss at long last--a girl who has no idea that the future needs her, and that the present needs her even more.

Graduating from high school is a time of limitless possibilities--but not for Glory, who has no plan for what's next. Her mother committed suicide when Glory was only four years old, and she's never stopped wondering if she will eventually go the same way...until a transformative night when she begins to experience an astonishing new power to see a person's infinite past and future. From ancient ancestors to many generations forward, Glory is bombarded with visions--and what she sees ahead of her is terrifying: A tyrannical new leader raises an army. Women's rights disappear. A violent second civil war breaks out. And young girls vanish daily, sold off or interned in camps. Glory makes it her mission to record everything she sees, hoping her notes will somehow make a difference. She may not see a future for herself, but she'll do anything to make sure this one doesn't come to pass.
Sedan jag först hörde talas om Glory O'Brien's History of the Future så har jag velat läsa den. Och efter att ha läst A.S. Kings Reality Boy så hamnade den ännu längre upp på min TBR, och jag beslöt mig för att genast förhandsboka den. Och precis som med Reality Boy, så var Glory O'Brien's History of the Future en bok som jag absolut älskade.

Handlingen är väldigt spännande, trots att det egentligen inte händer så mycket. Glory och hennes enda vän beslutar sig en kväll för att dricka dammet av en död fladdermus, och efter det så börjar de se visioner av framtiden. Och den framtid som Glory ser är allt annat än lycklig. Under bokens gång så får man korta skymtar av framtiden, samtidigt som man följer Glorys liv i nutid, med en död mamma, en ledsen pappa, och helt utan framtidsplaner. Jag gillade att se Glory försöka fundera ut sitt liv, att välja om hon skulle kämpa eller följa i mammans fotspår, och hur hon äntligen bestämde sig för vad som var viktigt. Men det mest intressanta med den här boken var faktiskt framtidsvisionerna, och jag hade velat ha en hel serie bara om det. För vad sägs om ett andra inbördeskrig i ett USA där det blir olagligt för kvinnor att arbeta, och deras rättigheter försvinner helt. Där man får avliva människor efter att de fyllt 60, och där man stjäl kvinnor och sätter dem i så kallade fortplantningsläger. Sjukt skrämmande, eller hur? Men som det dystopifan jag är, så ville jag ändå ha mer av den här världen.

Precis som med Reality Boy, så är det här en väldigt karaktärsdriven berättelse, och Glory själv är en oerhört fascinerande karaktär. Hon är ganska så vilsen, hon är arg, väldigt egensinnig, och jag finner henne supercharmig, trots att hon från början faktiskt inte alls är särskilt älskvärd. Även bi-karaktärerna är intressanta, och jag gillade allra helst Glorys pappa.

Glory O'Brien's History of the Future är en väldigt speciell bok, men också åh, så bra. Det är en bok jag ser fram emot att läsa igen, en bok jag absolut älskar, och en bok jag vill rekommendera till absolut alla.
Favoritcitat:
"I am tortured too. I am tortured by belly fat and magazine covers about how to please everyone but myself. I am tortured by sheep who click on anything that will guarantee a ten-pound loss in one week. Sheep who will get on their knees if it means someone will like them more. I am tortured by my inability to want to hang out with desperate sheep. I am tortured by goddamned yearbooks full of bullshit. I met you when. I'll miss the times. I'll keep in touch. Best friends forever. Is this okay? Are you all right? Are you tortured too?"