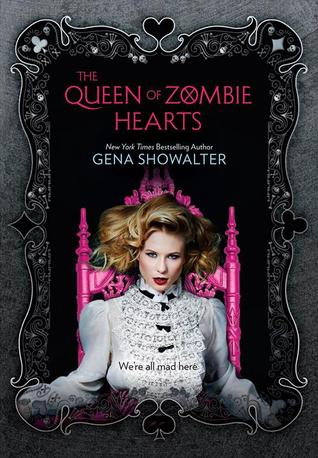 Titel:
The Queen of Zombie Hearts
Författare:
Gena Showalter
Serie:
The White Rabbit Chronicles #3
Sidor:
439
Spoilervarning! Boken ingår i en serie, spoilers från tidigare böcker förekommer.
I have a plan.
We'll either destroy them for good, or they'll destroy us.
Either way, only one of us is walking away.

In the stunning conclusion to the wildly popular White Rabbit Chronicles, Alice "Ali" Bell thinks the worst is behind her. She's ready to take the next step with boyfriend Cole Holland, the leader of the zombie slayers…until Anima Industries, the agency controlling the zombies, launches a sneak attack, killing four of her friends. It's then she realizes that humans can be more dangerous than monsters…and the worst has only begun.
Det här är en av mina favoritserier, och jag har varit väldigt nyfiken på att få veta hur den skulle sluta. The Queen of Zombie Hearts var en väldigt bra bok, och den gav serien ett mycket värdigt avslut.
Alltid när det kommer till sista boken i en serie så har jag svårt att veta vad jag ska säga om handlingen utan att spoila något. Vad jag kan säga dock är att den var full av action och romans, precis som de andra delarna i serien, och att jag är supernöjd med slutet, trots att vissa saker fick mig att storgråta. Det enda jag har att klaga på är att alla karaktärer beskrivs som jättesnygga, samt att "tonårssnacket" blir lite för mycket emellanåt, men det är dock aldrig så mycket att det riktigt irriterar mig.
Karaktärerna är lika fantastiska som vanligt, och allra helst Ali är en sådan stor favorit hos mig. Hon är så badass, och så modig, och jag älskar att hon står på sig så mycket. Cole är lite för mycket alfa-male för min smak, men jag älskar honom och Ali tillsammans och tycker att de är så perfekta för varandra. Även bi-karaktärerna är fenomenala, allra helst Kat, Frosty, Nana och Gavin.
Så till några spoilertankar, markera för att läsa;
-

Vad intressant twisten med att Ali var den där Samantha var. Det var dock inte särskilt svårt att lista ut när ledtrådarna kom, men jag gillade det verkligen.
-

Jag blev förvånad över att det var så många som dog. Nog för att det var bi-karaktärer, men ändå. Allra helst Trina, som jag gillade så mycket i bok 2, och Mr Ankhs (för Reeves skull) dödsfall. Men värst var väl ändå min älskade Kat. Why, Mad Dog, why? Jag har liksom trott att det skulle lösa sig för henne under hela seriens gång, men inte. Och Frostys reaktion var heartbreaking. Jag grät, och grät, och grät.
spoilers slut.
The Queen of Zombie Hearts var ett superbra tillskott till serien, och jag älskade det här avslutet. Visst har serien sina fel, men jag älskar den ändå, och den är en stor favorit hos mig. Rekommenderas varmt.
Favoritcitat:
"Roses are red, violets are blue, I have five fingers, the middle one is for you."