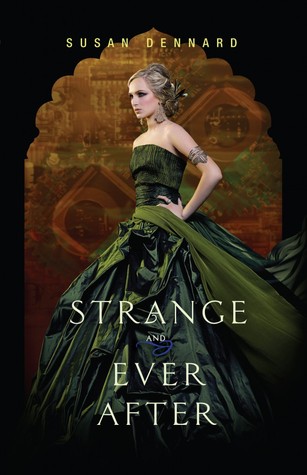 Titel:
Strange and Ever After
Författare:
Susan Dennard
Serie:
Something Strange and Deadly #3
Sidor:
387
Spoilervarning! Boken ingår i en serie, spoilers från tidigare böcker förekommer.
With supernatural forces, epic romance, and a mysterious Egyptian city, Eleanor and her team are set for an adventure they will never forget.

It has been a tumultuous time for Eleanor Fitt since life as she knew it in Philadelphia came abruptly to an end. Although the Spirit-Hunters Joseph, Jie, and Daniel have helped her survive, Eleanor has lost just about everything.

And now, Jie is missing taken by the evil necromancer Marcus. Eleanor is determined not only to get her back but to finally end this nightmare. To do so, she must navigate the hot desert streets of nineteenth-century Egypt amid the rising Dead, her unresolved feelings for Daniel, and her volatile relationships with Joseph and Oliver, her demon. And it won't be easy. Because Allison, her friend from Philadelphia, has tagged along, becoming strangely entangled in Eleanor's mission.

It will take all of Eleanor's powers of black magic, and all of Daniel's and Joseph's trust, to succeed. But there will be a price.
Den här serien blev som sagt ståendes oläst i min bokhylla i ett par år. Men efter att äntligen läst om första boken i serien, så plöjde jag resten på bara ett par dagar, och jag måste nog säga att Strange and Ever After är min favorit utav dem.

Handlingen är så spännande och charmig. Jag gillar att man reser över världen och får (åter)se Frankrike för att sedan resa vidare till Egypten. Historian i de här böckerna är så intressant, och jag gillar hur Dennard har blandat magi med det som skett på riktigt. Upplösningen var oerhört spännade, och slutet var väldigt oväntat, samtidigt som det krossade mitt hjärta en aning. Men när jag tänker efter så passar det så väl in på serien, och det var nog just det som gjorde Strange and Ever After till min favorit.

Av karaktärerna så älskar jag Eleanor. Hon är så charmig och smart. Riktigt tuff, allra helst under den tidsperioden, och jag gillar att hon kan komma på alla lösningar själv. Jag tycker även så mycket om Daniel, och under seriens gång har jag shippat honom och Eleanor så mycket. Jag gillar att man äntligen fick lite romans här, och deras relation var verkligen underbar. Även Joseph, Jie och Oliver har en plats i mitt hjärta, men jag hade velat ha lite mer från Jie & Joseph i den här boken. Det kändes lite som att de hamnade för mycket i skymundan. Hur som helst så har karaktärerna varit fantastiska, och jag är så glad över att äntligen tagit mig tiden att avsluta deras berättelse.

Strange and Ever After var en fantastiskt bra bok, och jag tyckte så mycket om den. Spänning, magi, romans och zombies. Det finns helt klart något för alla, och Susan Dennard klättrar här ännu högre upp bland mina favoritförfattare. Rekommenderas varmt.