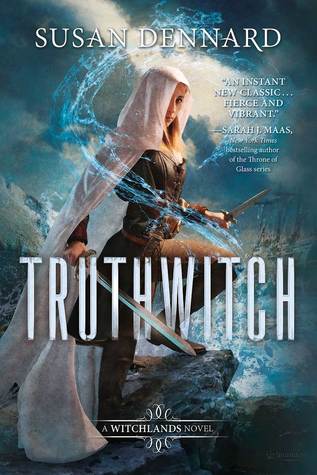 Titel:
Truthwitch
Författare:
Susan Dennard
Serie:
The Witchlands #1
Sidor:
412
On a continent ruled by three empires, some are born with a "witchery", a magical skill that sets them apart from others.

In the Witchlands, there are almost as many types of magic as there are ways to get in trouble—as two desperate young women know all too well.

Safiya is a Truthwitch, able to discern truth from lie. It's a powerful magic that many would kill to have on their side, especially amongst the nobility to which Safi was born. So Safi must keep her gift hidden, lest she be used as a pawn in the struggle between empires.

Iseult, a Threadwitch, can see the invisible ties that bind and entangle the lives around her—but she cannot see the bonds that touch her own heart. Her unlikely friendship with Safi has taken her from life as an outcast into one of reckless adventure, where she is a cool, wary balance to Safi's hotheaded impulsiveness.

Safi and Iseult just want to be free to live their own lives, but war is coming to the Witchlands. With the help of the cunning Prince Merik (a Windwitch and ship's captain) and the hindrance of a Bloodwitch bent on revenge, the friends must fight emperors, princes, and mercenaries alike, who will stop at nothing to get their hands on a Truthwitch.
Truthwitch har varit ett av mina mest efterlängtade boksläpp, och förväntningarna var verkligen skyhöga. Den har fått så mycket bra kritik, och jag har längtat och längtat. Om den kunde leva upp till hypen då? Läs vidare så får du se.
Handlingen var fantastisk! Jag har hört att några tycker att boken är seg i början, men jag har ingen aning om vad man pratar om. Redan från första kapitlet var jag fast, och jag älskade varenda sida. "Häxorna" med sina olika krafter var oerhört fascinerande, och jag fann handlingen att vara så spännande. Full av magi, action, vänskap, romans och kick ass karaktärer, jag har helt enkelt inte ett ont ord att säga om den här boken.
Karaktärerna var superhärliga, och jag älskade både Safi och Iseult. De kompletterade varandra så bra, och deras vänskap var både fin och alldeles perfekt. Jag gillar dessutom hur Dennard visar att vänskap kan vara minst lika viktig, om inte ännu mer, som en romans. I övrigt så gillade jag både Merik och Evrane, och jag fann Aeduan att vara väldigt fängslande. Ser så mycket fram emot alla karaktärerna och deras relationer i nästa bok.
Truthwitch var minst lika bra som jag förväntat mig, och kanske till och med bättre. Ett sanslöst spännande fantasyäventyr, som för mig mer än levde upp till hypen. Betyget kan inte bli annat än full poäng, och jag rekommenderar den till absolut alla.
Favoritcitat:
"I hate this. Both the storm and the plan. Why does it have to be 'we'? Why not just me?"
"Because 'just me' isn't who we are," Iseult hollered back. "I'll always follow you, Safi, and you'll always follow me. Threadsisters to the end."