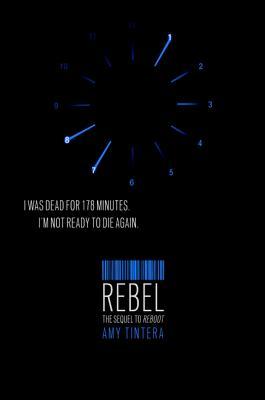 Titel:
Rebel
Författare:
Amy Tintera
Serie:
Reboot #2
Sidor:
340
Spoilervarning! Boken ingår i en serie, spoilers från tidigare böcker förekommer.
Wren Connolly thought she'd left her human side behind when she does five years ago and came back 178 minutes later as a Reboot. With her new abilities of strength, speed, and healing—along with a lack of emotions—Wren 178 became the perfect soldier for HARC (Human Advancement and Repopulation Corporation). Then Callum 22 came along and changed everything.

Now that they've both escaped, they're ready to start a new life in peace on the Reboot reservation. But Micah 163, the Reboot running the reservation, has darker plans in mind: to wipe out the humans. All of them. Micah has been building a Reboot army for years and is now ready to launch his attack on the cities. Callum wants to stick around and protect the humans. Wren wants nothing more than to leave all the fighting behind them.

With Micah on one side, HARC on the other, and Wren and Callum at odds in the middle, there's only one option left...
Jag älskade Reboot när jag läste den under sommaren 2013, men av någon anedning så plockade jag aldrig upp uppföljaren. Rebel har stått i min oläst hylla i ett par år, och nu när jag äntligen har läst den så har jag ännu svårare att förstå varför det tagit mig sådan tid. För visst var den minst lika bra som sin föregångare, om inte till och med ännu bättre.

Handlingen och Rebootsen fascinerar mig oerhört, och jag gillar tanken bakom det hela. Rebel är dessutom så spännande, och full av action, och varken jag eller karaktärerna fick knappt en lugn stund. Actionscenerna är dessutom superbt skrivna, och jag älskar alla slagsmål. Slutet binder också ihop serien väldigt bra, och jag är mer än nöjd över hur vi lämnar Wren, Callum och co.

Av karaktärerna så älskar jag Wren. Hon är så fantastiskt bad ass. Även Callum har växt mycket i mina ögon, och jag gillar hans utveckling här. Romansen mellan de båda (som jag inte var helt såld på i första boken) känns mycket mer äkta här. Jag gillar särskilt hur Wren gör Callum starkare, och hur Callum gör Wren mer mänsklig och eftertänksam. De kompletterar varandra oerhört bra, och jag är dessutom nöjd över att romansen inte tar upp allt för mycket av handlingen.

Rebel var bättre än vad jag först hoppades på, och jag tyckte så mycket om den. Jag ångrar att jag inte läst den innan, och ser nu fram emot att läsa mer av Amy Tintera i framtiden (bok ett i hennes nya fantasytrilogi släpps snart, och hamnar definitivt på min önskelista). Jag rekommenderar gärna Reboot duologin till er som gillar sci-fi och tuffa kvinnliga huvudroller.