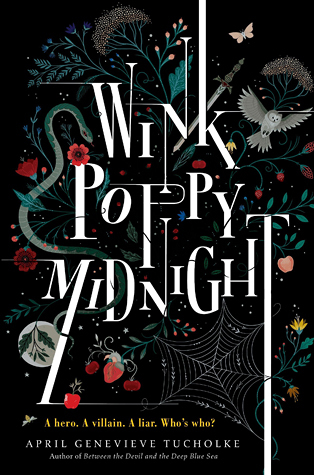 Titel:
Wink Poppy Midnight
Författare:
April Genevieve Tucholke
Serie:
-
Sidor:
247
Every story needs a hero.
Every story needs a villain.
Every story needs a secret.

Wink is the odd, mysterious neighbor girl, wild red hair and freckles. Poppy is the blond bully and the beautiful, manipulative high school queen bee. Midnight is the sweet, uncertain boy caught between them. Wink. Poppy. Midnight. Two girls. One boy. Three voices that burst onto the page in short, sharp, bewitching chapters, and spiral swiftly and inexorably toward something terrible or tricky or tremendous.

What really happened?
Someone knows.
Someone is lying.
April Genevieve Tucholke är något av ett litterärt geni i mina ögon, och eftersom jag älskat allt jag läst av henne innan så var mina förväntningar på Wink Poppy Midnight givetvis väldigt höga. Om den leve upp till dessa då? Läs vidare så får du se.
Handlingen är oerhört svår att prata om utan att spoila något, så jag tänker inte ens försöka. Vad jag kan säga dock är att jag blev förälskad i boken redan på första sidan, och min förälskelse blev bara starkare och starkare ju mer jag läste. Wink Poppy Midnight har en alldeles särskild magi, och det kombinerat med Tucholkes gudomligt vackra prosa gör att den blir en ren fröjd att läsa.
Karaktärerna var alla väldigt fascinerande, och jag gillar särskilt att man inte vet vem man kan lita på utav dem. Det är dessutom så mycket mer till både Wink, Poppy och Midnight än vad man först kanske hade anat, och jag kan omöjligt säga vem jag gillade mest.
Slutet var dessutom väldigt överraskande, och jag var inte alls beredd på det hela. Wink Poppy Midnight trollband mig från den allra första sidan, och det var en läsupplevelse utöver det vanliga. Rekommenderas varmt.