Titel:
A Storm of Swords: Steel and Snow
Författare:
George R.R. Martin
Serie:
A Song of Ice and Fire #3
Sidor:
623
Spoilervarning! Boken ingår i en serie, spoilers från tidigare böcker förekommer.
Winter approaches Westeros like an angry beast.

The Seven Kingdoms are divided by revolt and blood feud. In the northern wastes, a horde of hungry, savage people steeped in the dark magic of the wilderness is poised to invade the Kingdom of the North where Robb Stark wears his new-forged crown. And Robb's defences are ranged against the South, the land of the cunning and cruel Lannisters, who have his young sisters in their power.

Throughout Westeros, the war for the Iron Throne rages more fiercely than ever, but if the Wall is breached, no king will live to claim it.
Jag hade egentligen tänkt vänta lite med att läsa den här boken, men eftersom A Clash of Kings var så spännande, var jag tvungen att fortsätta med serien på en gång. Första delen av den tredje boken är den mest spännande hittills, och jag gillade den väldigt mycket. Det är dock lite jobbigt att det bara är misär efter misär, och just nu längtar jag så efter att få se hela familjen Stark tillsammans igen. I den här boken tyckte jag dessutom om alla kapitel, och Arya, Daenerys och Sansa fortsätter att vara mina favoritkaraktärer. Jag ska självklart genast fortsätt med andra delen, och hoppas på att den är minst lika bra.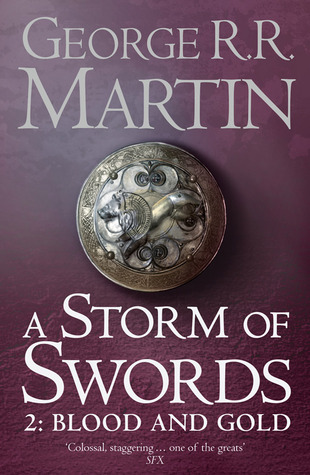 Titel:
A Storm of Swords: Blood and Gold
Författare:
George R.R. Martin
Serie:
A Song of Ice and Fire #3
Sidor:
607
Spoilervarning! Boken ingår i en serie, spoilers från tidigare böcker förekommer.
The Starks are scattered.

Robb Stark may be King in the North, but he must bend to the will of the old tyrant Walder Frey if he is to hold his crown. And while his youngest sister, Arya, has escaped the clutches of the depraved Cersei Lannister and her son, the capricious boy-king Joffrey, Sansa Stark remains their captive.

Meanwhile, across the ocean, Daenerys Stormborn, the last heir of the Dragon King, delivers death to the slave-trading cities of Astapor and Yunkai as she approaches Westeros with vengeance in her heart.
Del 2 av bok tre är helt klart den bästa hittills, och jag absolut älskade den. Det var omöjligt att sluta läsa, och handlingen var spännande hela tiden. Det var faktiskt så att jag till och med gillade Davos kapitel (vilka jag annars bara tyckt varit tråkiga).
Det var så många oväntade vändningar, och flera gånger så bara gapade jag. Jag gillade allas kapitel den här gången, men mina största favoriter var Arya, Sansa, Jon och Tyrion.
Spoilers för Red Wedding mm;
-

Jag har hart termen Red Wedding upprepade gånger, men eftersom jag har vägrat att spoila den här serien för mig själv, så hade jag faktiskt ingen aning om vad det var mer än att någon skulle dö. Det var kanske inte så svårt att lista ut att det var Robb det handlade om däremot, vi har ju trots allt aldrig fått läsa ur hans perspektiv (även om det inte verkar hjälpa i den här serien). Det hjälpte mig inte från att bli asförbannad dock, och jag blev sjukt chockad när även Catelyn dog.
-

Min största förvåning var när Joffrey dog..det hade jag aldrig förväntat mig, trots att det inte kunnat hända någon som förtjänade det mer. Att det var han som skickat mördaren efter Bran var också aningen förvånande, och det var långt ifrån min första teori.
-

Slutet chockade mig också, och jag undrar hur Lady Catelyn uppstod, och hur mänsklig hon är nu? Jag hoppas dock att hon ska få återförenas med sina barn, men det verkar ju inte direkt lovande...
spoilers slut.
Jag äger inte den fjärde och femte boken (än), men nu tänker jag ta en paus från böckerna för att se tv-serien..något jag faktiskt väntat i flera år på att göra. A Storm of Swords var dock riktigt bra, och jag ser fram emot att läsa nästa bok inom en snar framtid. Rekommenderas varmt.