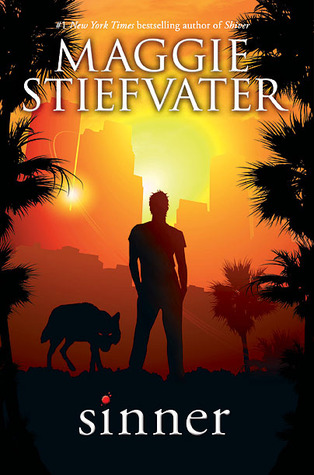 Titel:
Sinner
Författare:
Maggie Stiefvater
Serie:
The Wolves of Mercy Falls #3.5
Sidor:
357
Spoilervarning! Boken ingår i en serie, spoilers från tidigare böcker förekommer.
Sinner follows Cole St. Clair, a pivotal character from the #1 New York Times bestselling Shiver Trilogy. Everybody thinks they know Cole's story. Stardom. Addiction. Downfall. Disappearance. But only a few people know Cole's darkest secret -- his ability to shift into a wolf. One of these people is Isabel. At one point, they may have even loved each other. But that feels like a lifetime ago. Now Cole is back. Back in the spotlight. Back in the danger zone. Back in Isabel's life. Can this sinner be saved?
När jag läste The Wolves of Mercy Falls trilogin i slutet av 2011 så avgudade jag de första två böckerna, men var dödligt besviken på den tredje. Slutet lämnades på tok för öppet för min del, och jag var särskilt missnöjd över Cole och Isabels slut. Sedan dess har jag hoppats på en fortsättning, trots att Stiefvater vid flertalet tillfällen sagt att Mercy Falls var ett avslutat kapitel. När nyheten om Sinner, Cole och Isabels bok, kom var jag överlycklig, och jag har längtat så efter att äntligen få ett riktigt avslut.
Sinner utspelar sig något år efter Forevers slut, och istället för Mercy Falls så är det Los Angeles som gäller. Den här boken känns betydligt mer contemporary, och förutom att Cole blir en varg ibland, så handlar den mer om livet, kärleken, och kändisskapet. Jag vill inte spoila för mycket, men det är mest bara Cole, Isabel, och perfektion.
Både Isabel och Cole är väldigt komplexa karaktärer, och båda är väldigt trasiga. Det är både intressant att läsa om, men kunde samtidigt bli aningen tröttsamt ibland. Inte så att det störde mig, men ändå tillräckligt för att reagera på det. Deras relation har dock alltid varit en av mina favoriter, och det känns skönt att, markera för spoilers -->

dem äntligen kan vara tillsammans

, spoilers slut.
Jag älskar att man får veta lite om Sam och Grace också. Jag gillar att båda är, markera för spoilers -->

någorlunda botade, och lever sitt liv. Jag hade dock hoppats på att få se dem lite mer, och det var tråkigt att det bara var telefonsamtal och inte 'in person'

, spoilers slut.
Slutet av boken var så jäkla bra, och jag älskade epilogen. Sinner var allt jag hade kunnat önska mig, och jag kommer att vara evigt tacksam till Maggie Stiefvater som äntligen gav mig ett avslut. Rekommenderas oerhört till er som gillat de föregående böckerna.
Favoritcitat:
"Why did you even come here, Cole?"
I touched her chin. This place, this beautiful place, this girl, this beautiful girl, this music, this life. "I came here for you."