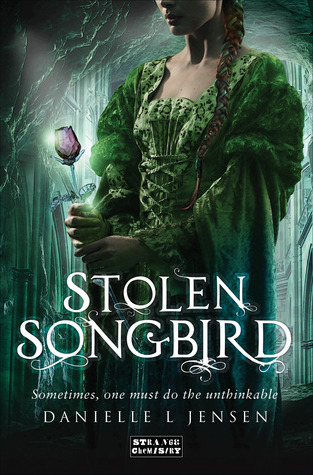 Titel:
Stolen Songbird
Författare:
Danielle L. Jensen
Serie:
The Malediction Trilogy #1
Sidor:
469
For five centuries, a witch's curse has bound the trolls to their city beneath the ruins of Forsaken Mountain. When Cécile de Troyes is kidnapped and taken beneath the mountain, she realises that the trolls are relying on her to break the curse.
Cécile has only one thing on her mind after she is brought to Trollus: escape. Only the trolls are clever, fast, and inhumanly strong. She will have to bide her time...
But the more time she spends with the trolls, the more she understands their plight. There is a rebellion brewing. And she just might be the one the trolls were looking for..
Jag var inte ett dugg intresserad av den här boken förrän jag såg
Fridas väldigt positiva recension
utav den, och efter det blev den ett måste att läsa. Och även om jag inte gillade den lika mycket som Frida gjorde, så var det fortfarande en bok jag tyckte mycket om.
Handlingen var väldigt spännande, och det här är min första bok om troll. Det var väldigt intressant att läsa om, även om de, markera för spoilers,
faktiskt verkar vara fairies och inte troll
, spoilers slut. Världen var dessutom fantastiskt uppbyggd, och lika magisk som skrämmande. Med en bok full av nya, fräscha varelser, magi, och romans är det inte mycket som kan gå fel. Men något, och jag kan inte säga vad, hindrade mig för att falla totalt för Stolen Songbird. Det var en riktigt bra bok, men inte tillräckligt bra för att nå favoritstatus, tyvärr.
Cécile var en ganska härlig karaktär, och jag gillade henne. Hon var modig, smart, och charmig. Jag var inte riktigt lika förtjust i Tristan, och tyckte att han var lite väl outhärdlig i början. Han växte lite i mina ögon framåt slutet, men han var ingen favorit. Det var dock väldigt uppfriskande att läsa om två personer som smått hatade varandra i början, och jag gillade att romansen fick ta sin tid.
Mina favoriter var Marc, Victoria och Vincent, och jag hade mycket hellre velat se någon av dem i huvudrollen. Dessutom hade det varit mycket mer intressant om Tristan hade haft Marcs utseende och Cécile ändå blivit kär i honom.
Slutet var väldigt spännande och den där cliffhangern gör att jag redan nu biter på naglarna i väntan på nästa bok. Stolen Songbird var riktigt bra, och jag rekommenderar den gärna.