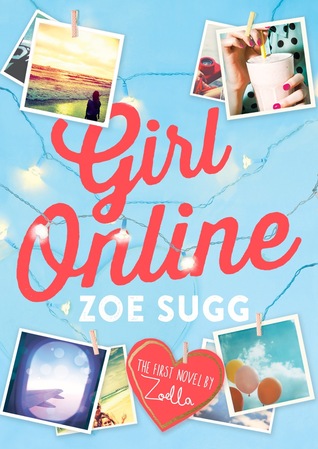 Titel:
Girl Online
Författare:
Zoe Sugg
Serie:
Girl Online #1
Sidor:
344
I had no idea GirlOnline would take off the way it has - I can't believe I now have 5432 followers, thanks so much! - and the thought of opening up to you all about this is terrifying, but here goes...

Penny has a secret.

Under the alias GirlOnline, she blogs about school dramas, boys, her mad, whirlwind family - and the panic attacks she's suffered from lately. When things go from bad to worse, her family whisks her away to New York, where she meets the gorgeous, guitar-strumming Noah. Suddenly Penny is falling in love - and capturing every moment of it on her blog.

But Noah has a secret too. One that threatens to ruin Penny's cover - and her closest friendship - forever.
När jag först såg Girl Online på Akademibokhandeln tyckte jag att det verkade vara en mysig bok, och köpte därför genast hem den. Jag hade ingen aning vem Zoe Sugg, eller Zoella som hon kallas för, var, och jag hade inte heller hört talas om hela den här kontroversen med att boken faktiskt är spökskriven. Och även om jag är aningen tveksam gällande spökskriveriet (jag är okej med att man anlitar en annan författare för att skriva ens historia, men jag gillar inte att man inte är ärlig med det hela redan från början), så går det inte att förneka att Girl Online är en oerhört charmig bok som jag tyckte riktigt mycket om.
Själva handlingen är bara så supermysig, och jag satt med ett leende på läpparna under nästan hela boken. Girl Online är en väldigt härlig och lättsam contemporary, den gick fort att läsa och den var för det mesta väldigt bra. Jag gillar att huvudpersonen bloggar anonymt och att man fick se både det positiva och det negativa med
dagens internet. Själva kärlekshitorian var dessutom väldigt gullig och fluffig, och när jag nådde slutet av boken kunde jag inte låta bli att börja längta efter uppföljaren.
Karaktärerna är kanske bokens svaga sida, och jag hade lite svårt för Penny. Å ena sidan så gillade jag henne. Hon var rolig, charmig, och blev så mycket bättre när hon började stå upp för sig själv. Å andra sidan så var hon hyfsat idiotisk vid sina tillfällen och jag kunde inte låta bli att skämmas över hur hon betedde sig (på skolpjäsen, exempelvis). Noah var dock väldigt fin, och jag älskade deras relation. Den kändes väldigt äkta, trots att det gick så fort fram, och de var absolut perfekta tillsammans.
I mina ögon var Girl Online en sanslöst söt historia, och en bok jag verkligen gillade. Säga vad man vill om allting runt omkring den, men Girl Online är helt klart värd att läsa och jag kommer definitivt att plocka upp uppföljaren. Rekommenderas.